Research + Analysis
Client
Sunshine Coast Council
Collaborators
Rodger Todd Architect
Wattle it Bri
Buckley Planning
Disciplines
Landscape Architecture
Media
Location
Sunshine Coast, QLD
Awards
2023 AILA Landscape Architecture Award — Landscape Planning (QLD)
2023 PIA Award for Excellence – Strategic Planning Project (QLD)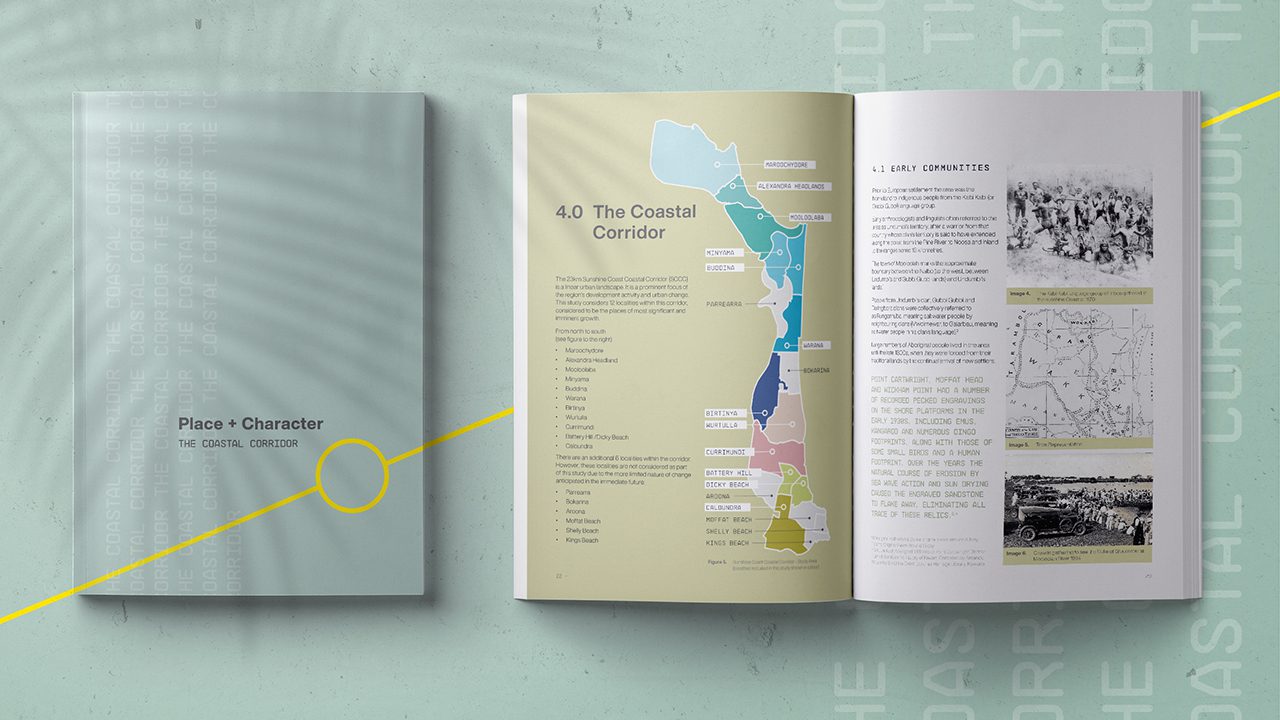 The character assessment undertaken sits at the intersection of science and design. The nuanced understanding of 'place and character' presented in the Sunshine Coast Coastal Corridor is the result of a meticulous approach to character research on an extraordinary scale.
The Sunshine Coast Coastal Corridor (SCCC) Place and Character Resource provides a place-based assessment at the intersection of science and design, that will inform future planning, policy, public realm and infrastructure projects within the Corridor. The tool enables place-appropriate responses that reflect community values and aid the delivery of the established Sunshine Coast Design Strategy.
It uses a rigorous mapping process to document place-specific information regarding climate, ecology, water and culture, providing council with a profound understanding of the valuable characteristics of 12 unique localities along the 'Coastal Corridor'. The resource identifies a series of 'Priority Place Ideas' which will support sustainable change amid significant growth.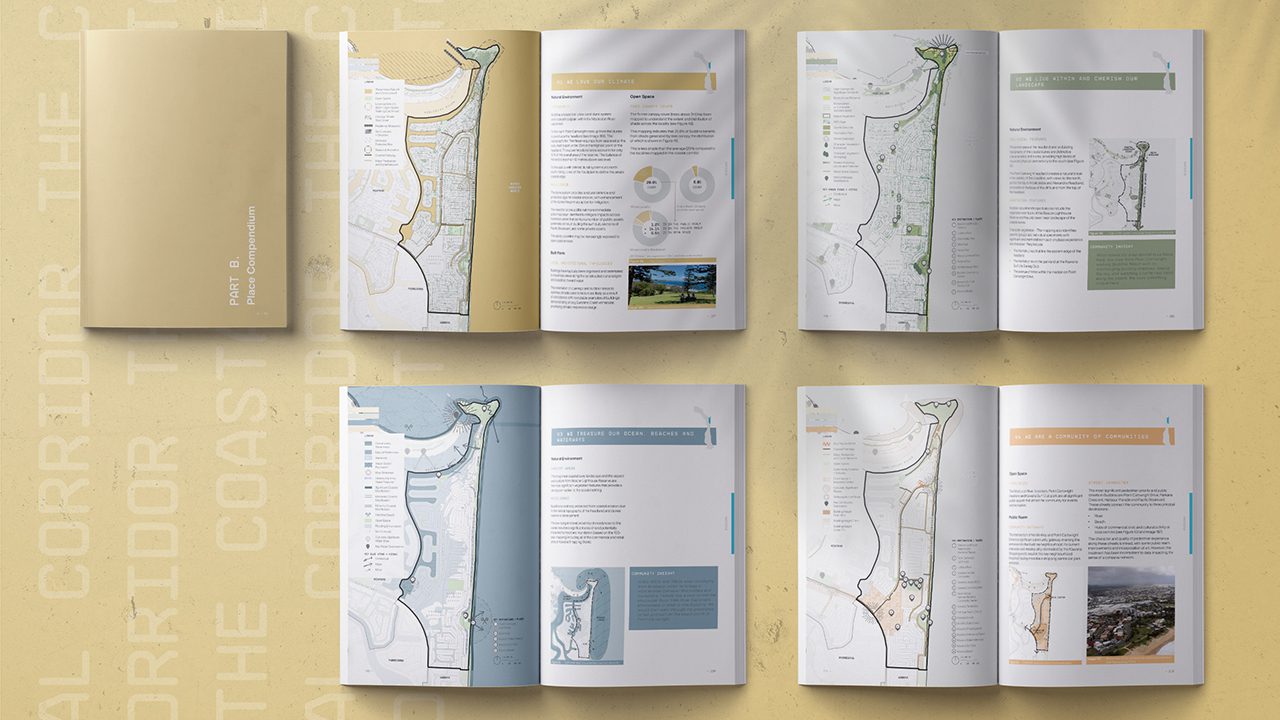 The SCCC Place and Character Resource helps guide sustainable growth in the delivery of liveable and prosperous urban neighbourhoods within this 23km linear urban landscape. It works by:
Uncovering and documenting the individual place and community characteristics of 12 unique localities
Identifying spatial strategies and initiatives ('ideas') to protect, promote and enhance the character of these places as the region adapts to its growing community.
The team undertook a comprehensive, evidence-based character assessment of 12 unique localities along the SCCC to understand the valued characteristics of the area, and the threats posed by change. At the heart of the analysis were the four community values captured in the Sunshine Coast Design Strategy:
We love our climate
We live within and cherish our landscape
We treasure our ocean, beaches and waterways
We are a community of communities.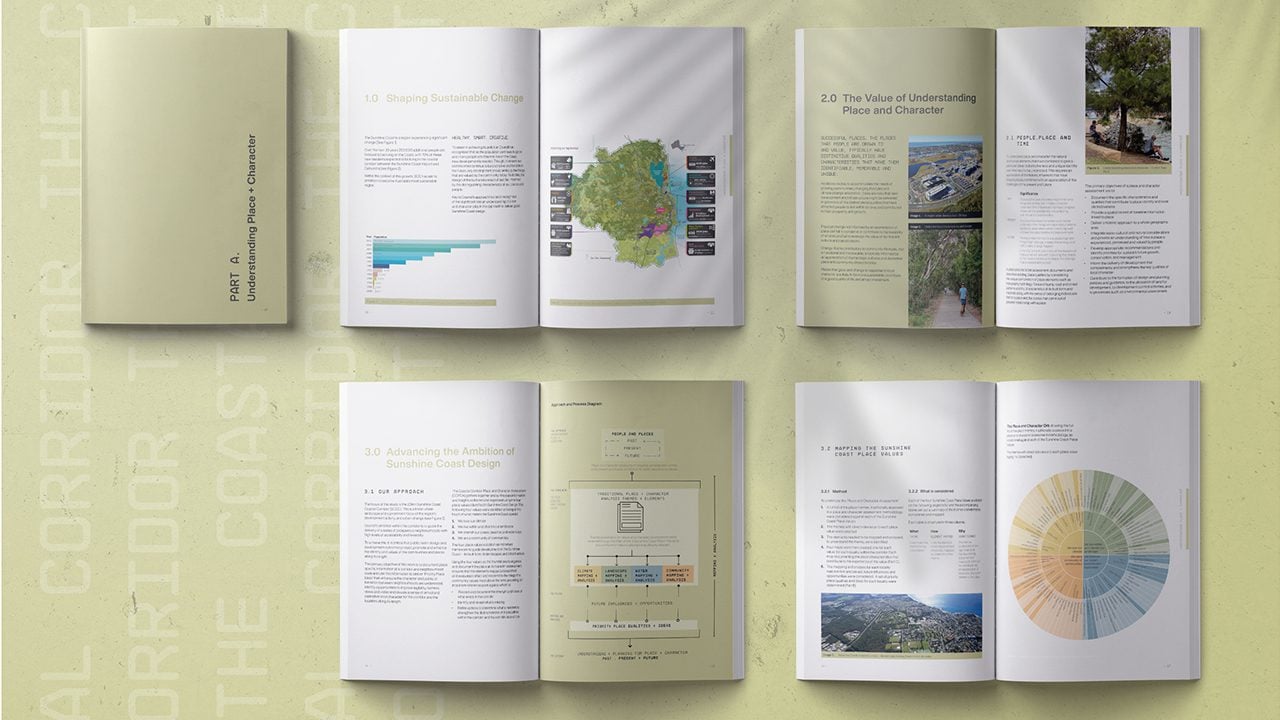 The project created a unique framework that used the Sunshine Coast Design Strategy's four community values as foundations to organise and document analysis, ensuring the elements mapped and assessed reflected the things the community value most.
This pioneering application reorganised a typical site analysis process around community values. The innovative interpretation of quantitative data layered with qualitative assessment helped the team clearly define the physical and spatial manifestation of community values in place.
The assessment and ideas documented in the SCCC Place and Character Resource provide a foundational reference for design and policy development.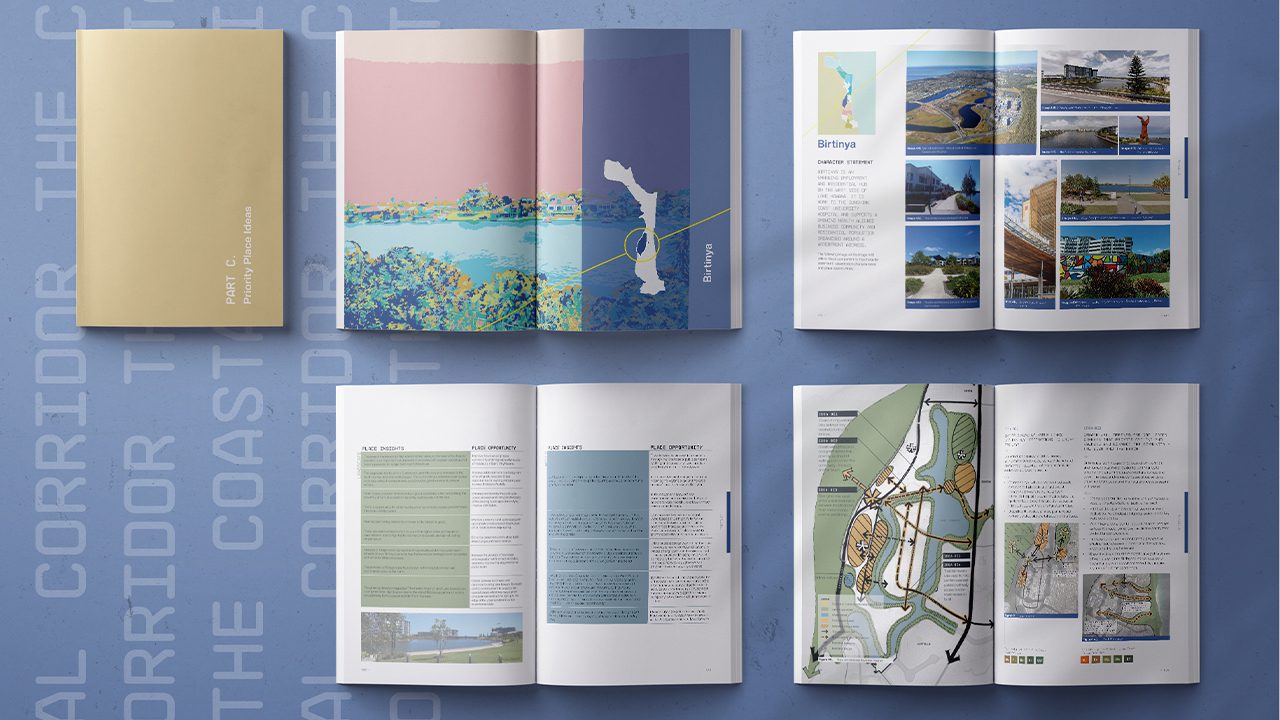 The project advances the ideas, recommendations and requirements established in Council's statutory and strategic guiding documents; and defines a way for Council to manage sustainable growth and development, prioritising considerations of climate, ecology, water and culture – as drivers of design aligned to community values.
The work's strength is its ability to succinctly summarise the unique and valued characteristics of each locality, highlighting opportunities to protect, improve, inform and inspire future plans and character outcomes. This is evident in the document's current use by council, where the content is being continually tested and advanced, informing future projects, planning outcomes and potential policy for the Coastal Corridor.