Community + Culture
Parks + Gardens
Tourism
Client
Brisbane City Council
Epoca Constructions
Collaborators
Belinda Smith
UAP
Core Consultants
Littoria
Webb
EDAW / AECOM
Norman Creek Catchment Coordinating Committee
Disciplines
Landscape Architecture
Imagery
Christopher Frederick Jones
Awards
2023 AILA National Award of Excellence — Open Space
2023 AILA National Climate Positive Design Award
2023 AILA National Landscape Architecture Award — Land Management
2023 AILA Award of Excellence — Open Space (QLD)
2023 AILA Award of Excellence — Parks (QLD)
2023 PIA Award for Excellence — Great Place (QLD)
2023 Stormwater Australia National Excellence Award — Integrated Stormwater Design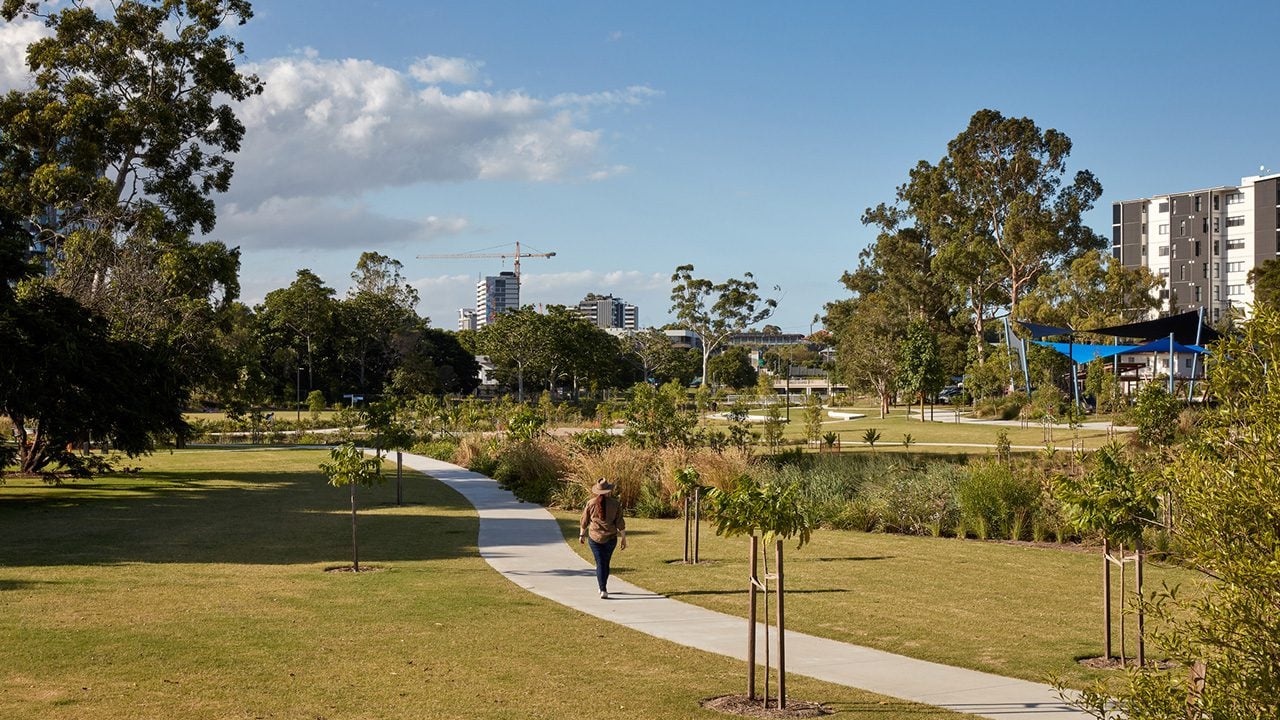 The Hanlon Park/Bur'uda Waterway Rejuvenation has returned nature to inner-city Brisbane, following an ambitious council program to holistically rethink the Norman Creek catchment.
Previously an underutilised space with a concrete-lined channel, the newly naturalised creek has become a thriving place for people, thanks to a design that responds to Country, community, and ecology.
The project reassessed historic flood mitigation practices through an ecological and community lens, bringing with it the joy and wildness of a creek. Brisbane's Lord Mayor, Adrian Schrinner, noted the importance of the project in rewilding our cities and giving kids a local creek to connect to.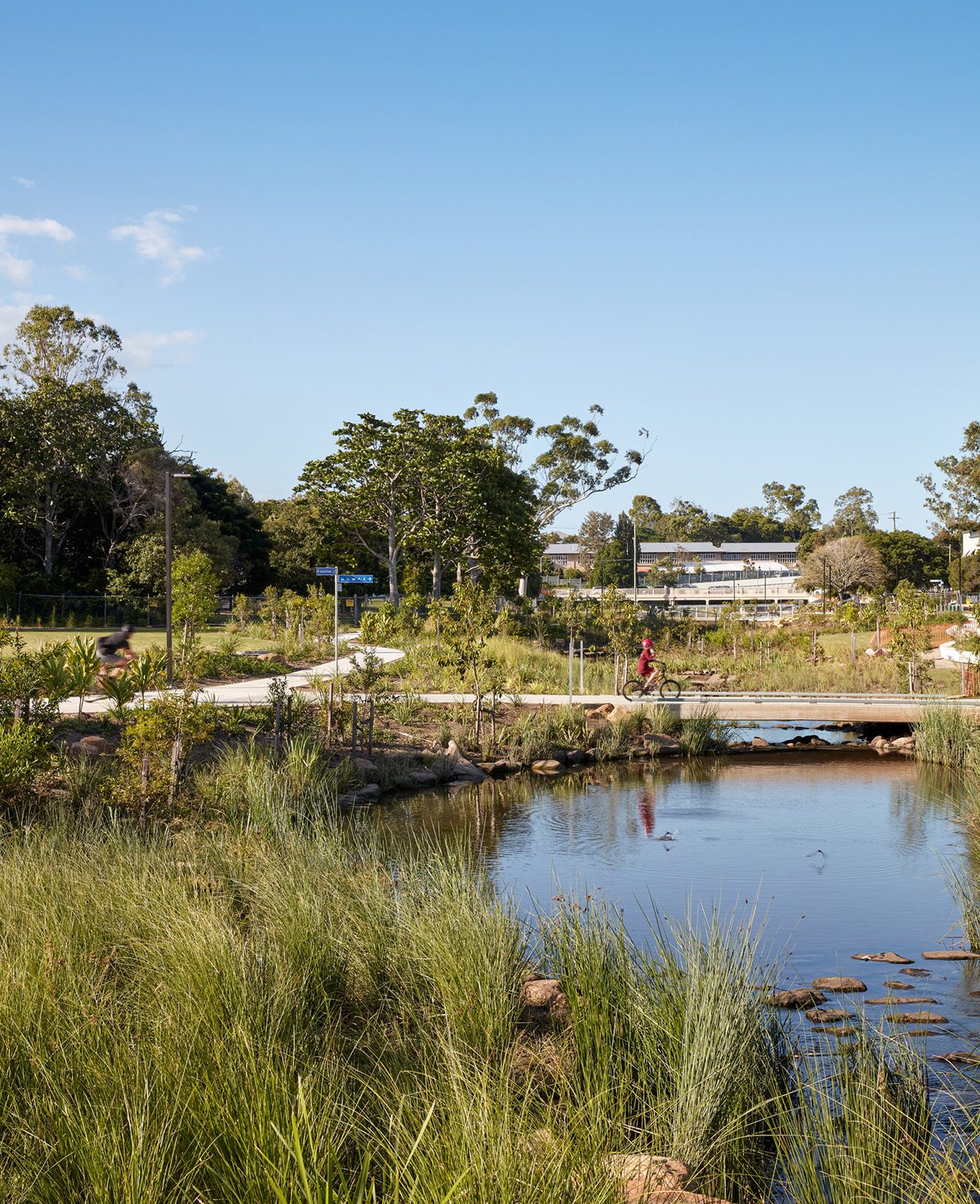 Hanlon Park/Bur'uda is a place for the community designed by the community. The need to improve catchment outcomes and water quality sparked a desire to create a new park for the growing community in the inner-city renewal area.
A 500-metre-long section of concrete drainage channel has been returned to the original meandering creek, bringing natural systems, wildlife habitat and active community space back to the inner-city suburb. The multi-functional space has been robustly designed for reduced flood risk.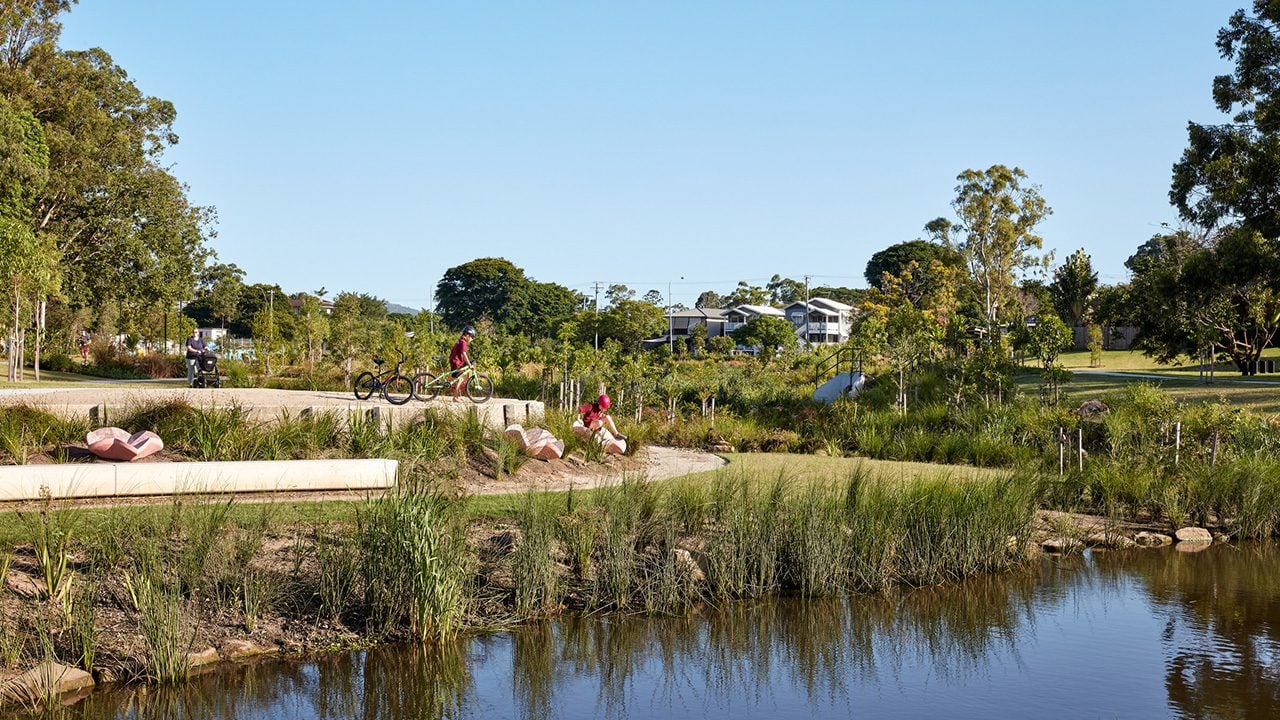 Small-scale creeks and dams feature in the space, reconnecting children with nature, water and flooding. The creek and wider park are designed to extend this nature play area, fostering opportunities for creek exploration and risk taking, with stepping stones to cross the creek, and generous and safe shared paths for riding bikes and scooters.
The nature play area provided an opportunity to 'rewild' the area. The innovative space, with organic forms, sensory planting, mounds and dry creek beds, water pump, boulders and creek lookout, offers children imaginative and diverse ways to play.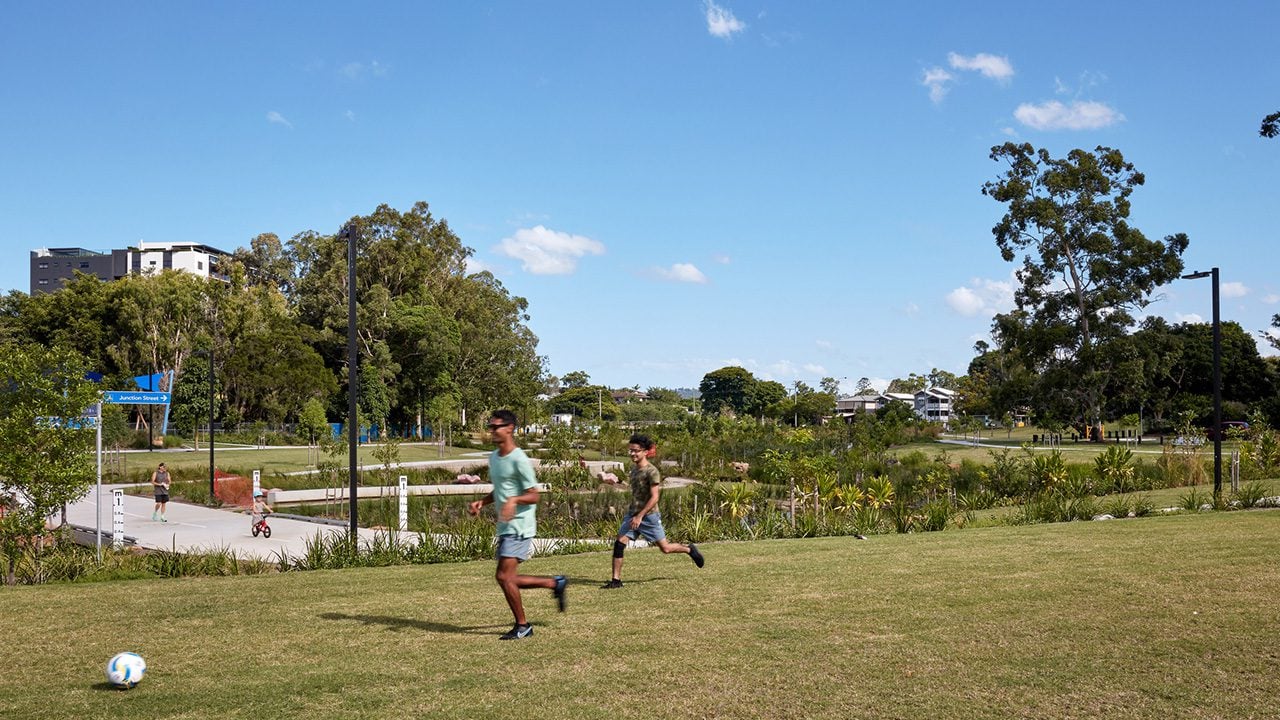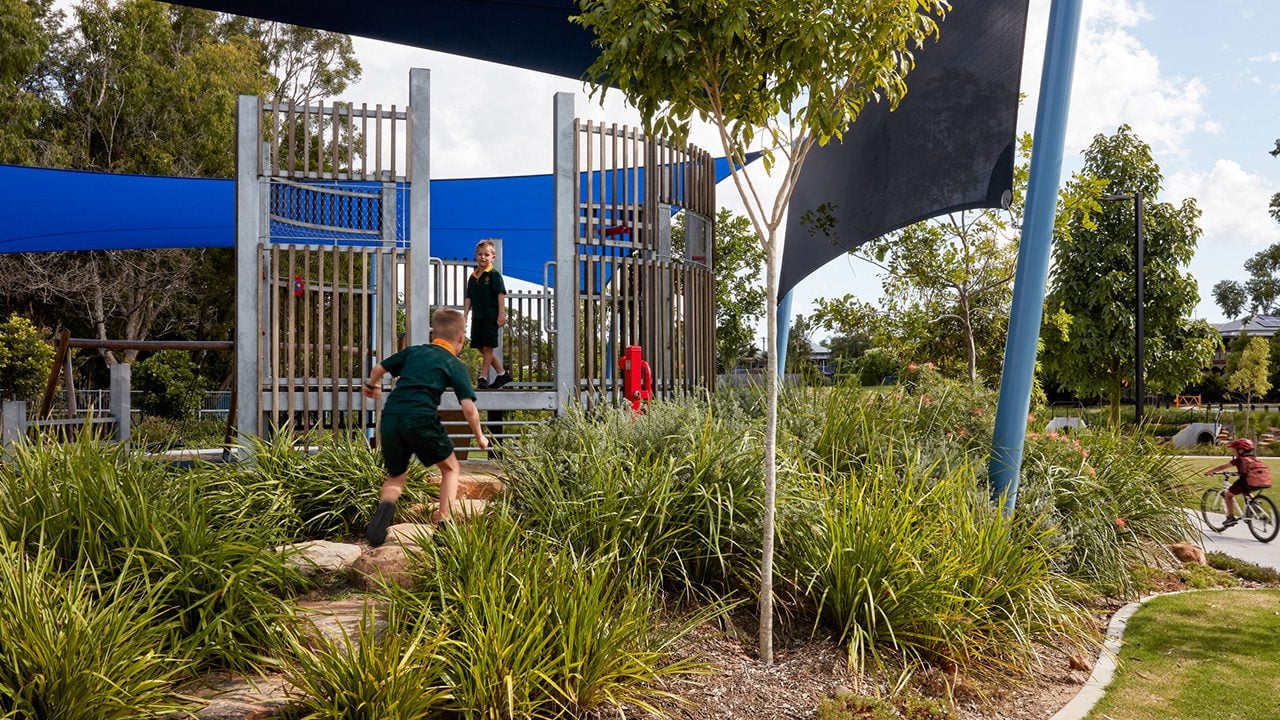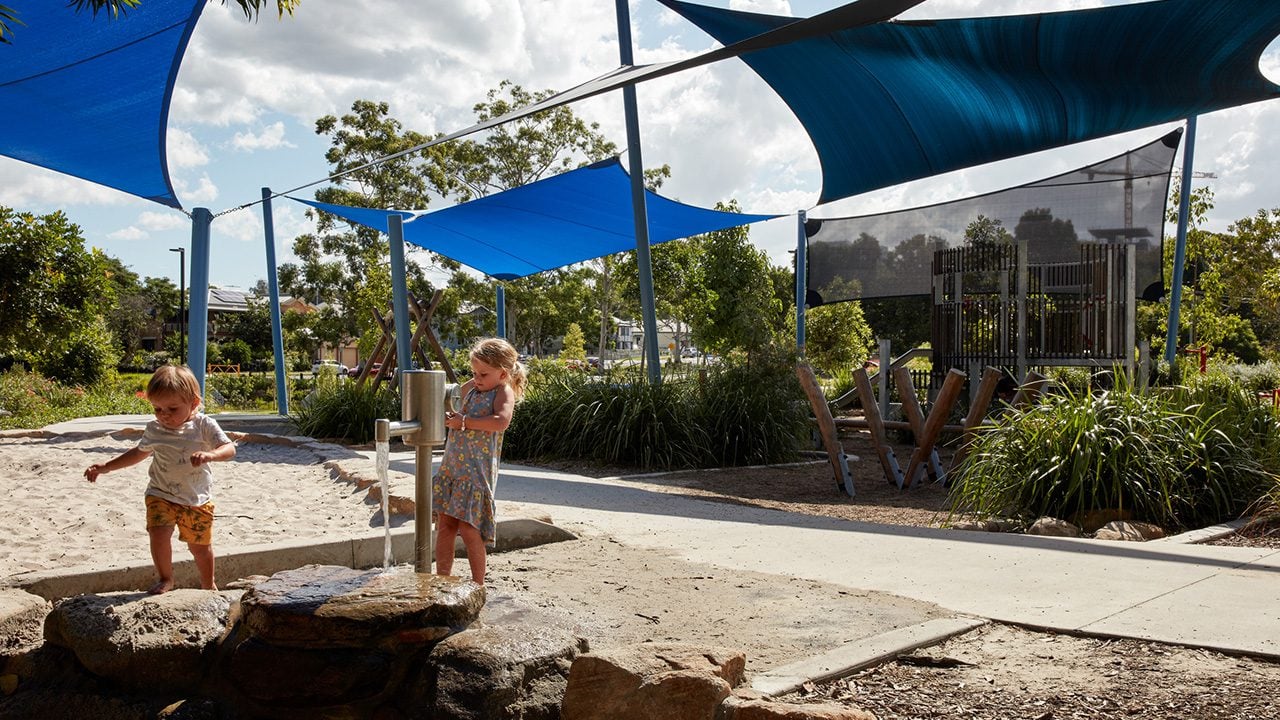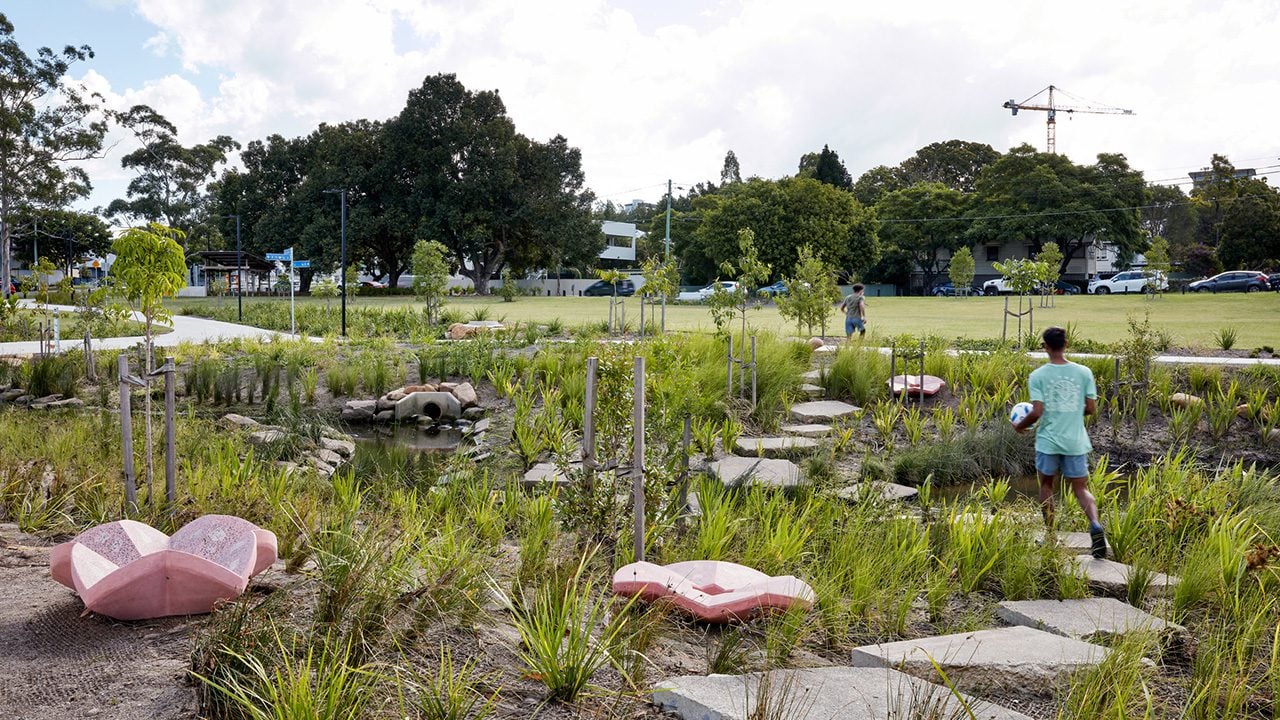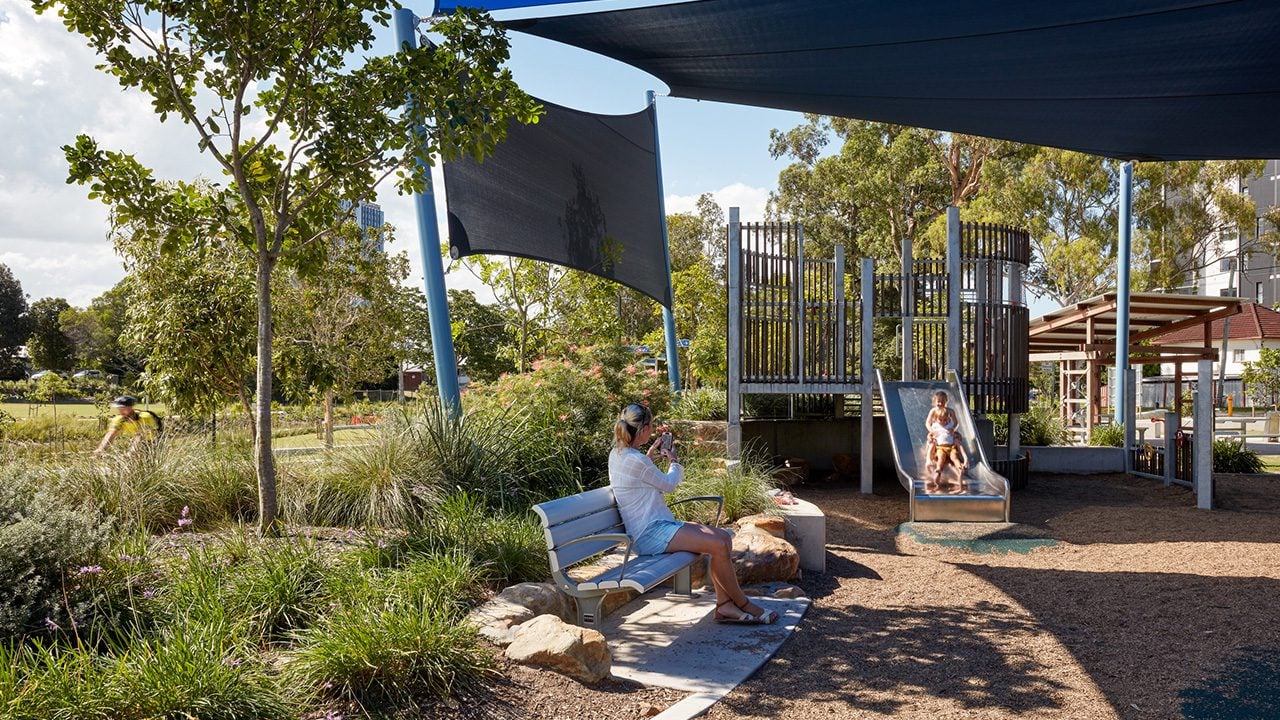 The strong community partnership allowed meaningful engagement with the traditional owners and local community, as part of the design and construction phase enabled genuine placemaking and local stories to be expressed.
Acknowledging the history and asking the big questions through a genuine co-design process, which included online surveys, stakeholder interviews, co-design charette and drop in kiosks, meant the community were able to influence the place-based outcome, and led to the community agreeing with the concept.
Community-led reviews, construction adjustments, and events at project milestones led to the dual park name and signage reflecting the site's cultural heritage. The community selected public art called 're-wild' by Belinda Smith to activate the space, which uses historic records of wild creek plants to inspire the sculptures.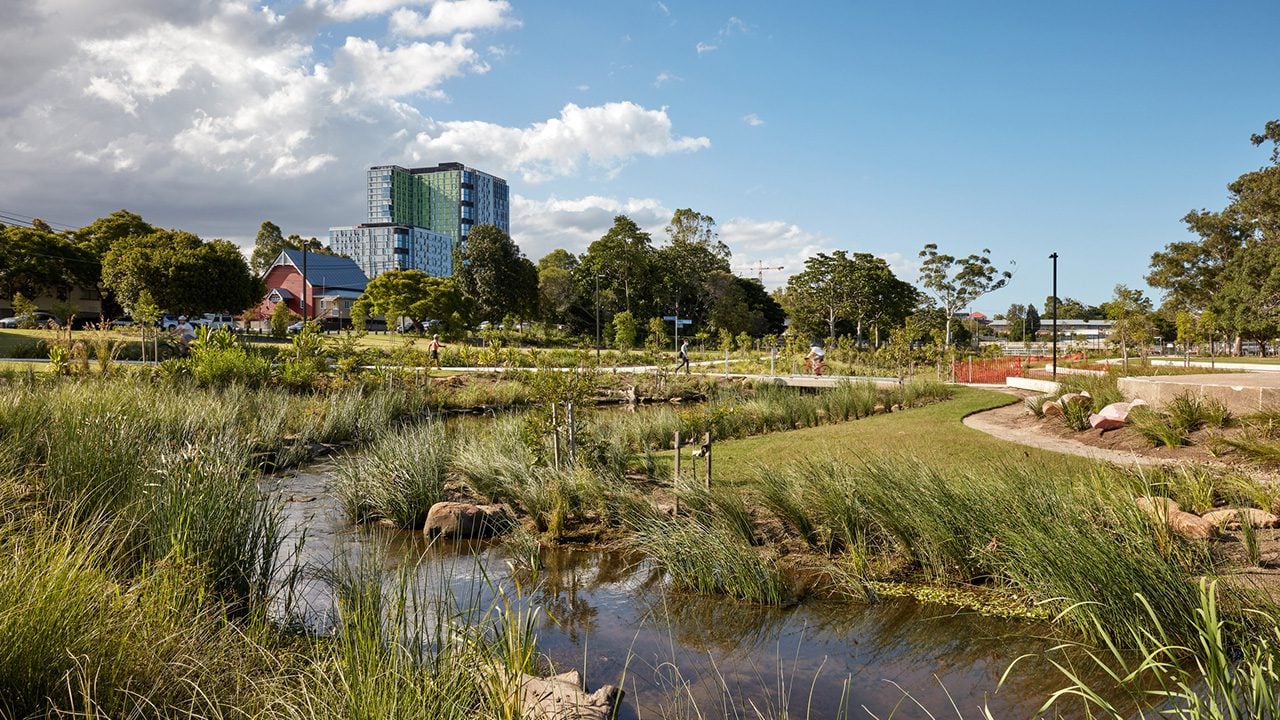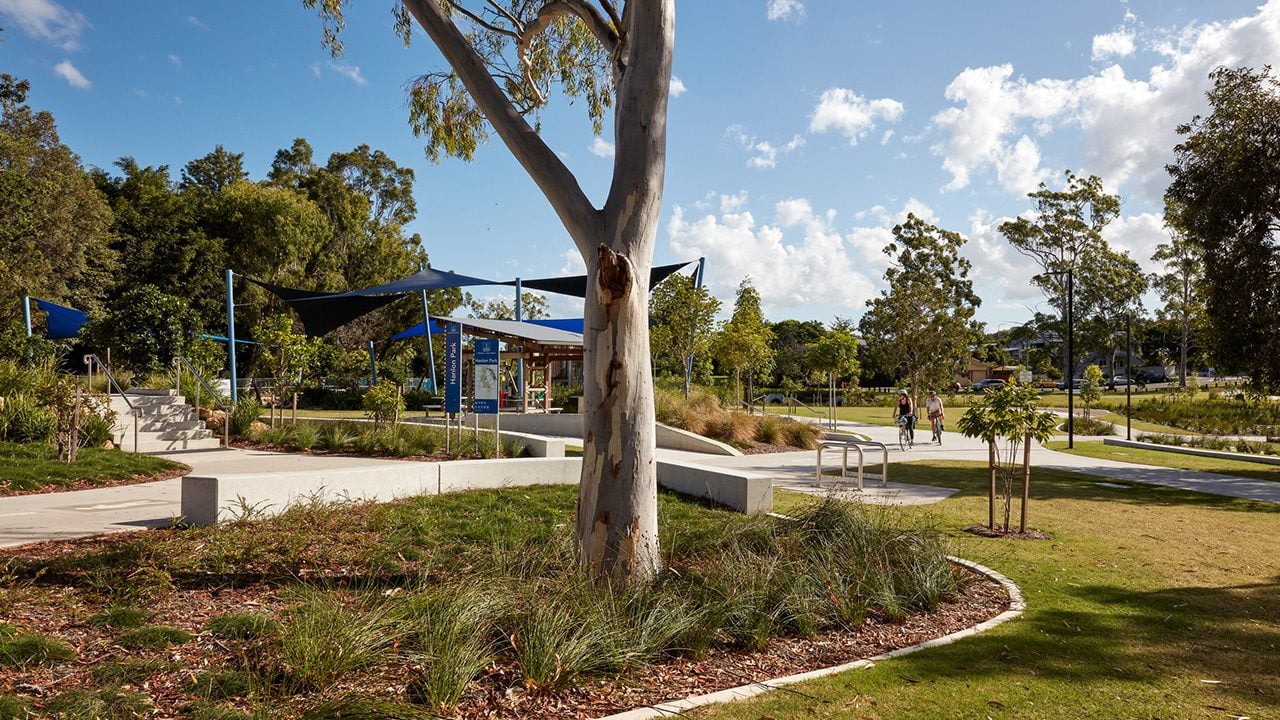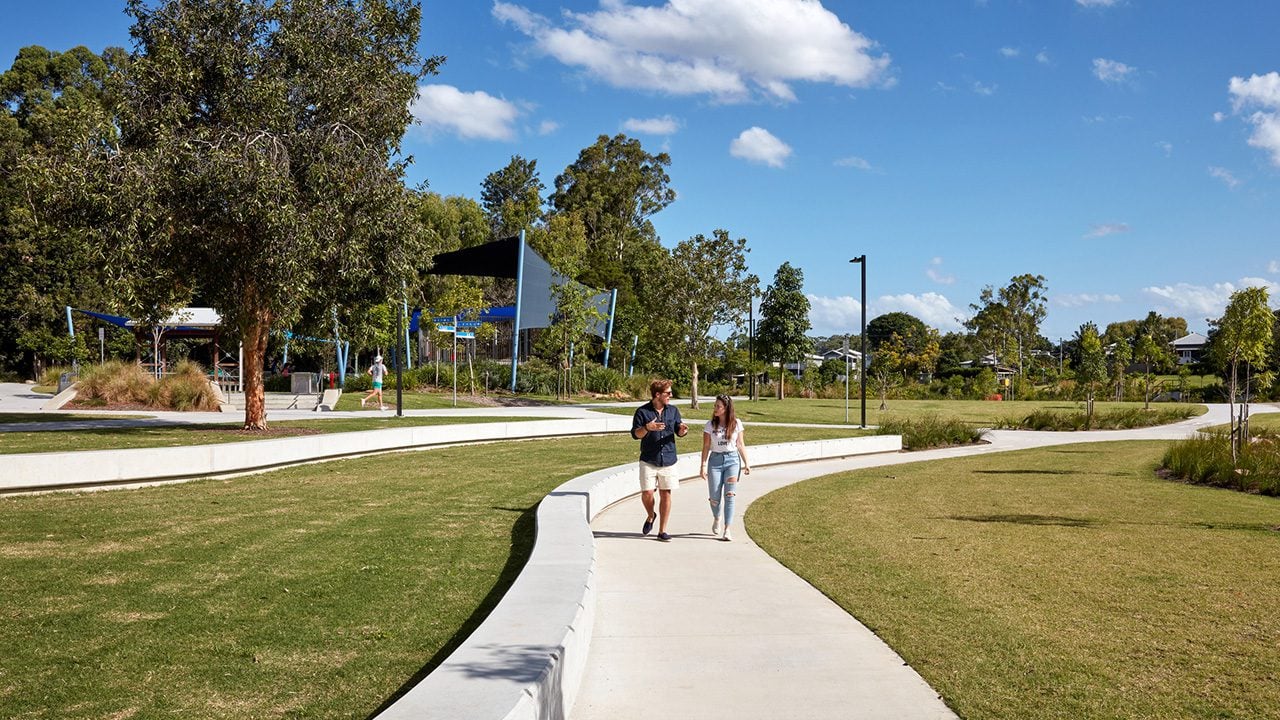 Hanlon Park/Bur'uda provides a new benchmark for advisory groups and governments on waterway naturalisation in urban community environments.
Hanlon Park/Bur'uda has experienced several major flooding events since completion, where its resilience has been tested and proven. Through iterative and collaborative landform and flood modelling, flows now replicate a natural floodplain more widely distributed within the creek and slowed by vegetation, ensuring no worsening of flooding impacts to neighbouring properties. The project provides an invaluable evidence base that can help landscape architects and engineers work towards organic-shaped, wilder treatments in waterways
The project strikes a balance between flood resilience and climate positive design functions with community and environmental benefits. The park and waterway have increased habitat quality, diversity and water health including improved fish passage. The planting of 462 new trees and more than 56,000 shrubs/groundcovers and reeds has provided cooler spaces in a warming climate.