Community and Culture
Transport
Client
Level Crossing Removal Project
Collaborators
Wood Marsh Architecture
KBR Engineers
John Holland
Heritage Victoria
Moreland City Council
WSP Indigenous Specialist Services
University of Melbourne
Metro Trains Melbourne
Philip Chun
Disciplines
Landscape Architecture
Media
Location
Brunswick and Coburg, VIC
Imagery
Robyn Oliver Photography
Awards
2023 PIA Award of Excellence — Great Place (VIC)
2022 AILA Award of Excellence — Infrastructure (VIC)
2022 North Western Program Alliance — Premier's Sustainability Award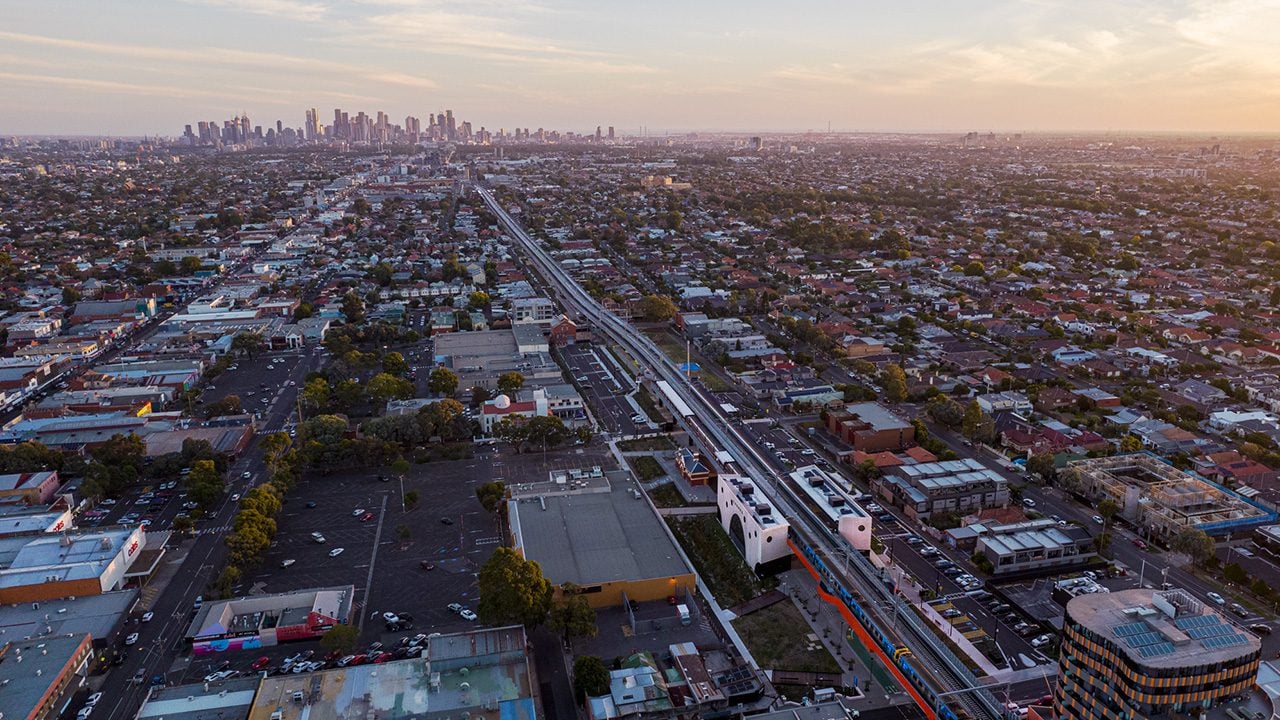 Colloquially known as Bell to Moreland, the project saw the elevation of 2km of rail between Bell Street (Coburg) and Moreland Road (Brunswick) replacing four at-grade level crossings along the Upfield Railway line.
Bookending the elevated rail are two new stations – Moreland, a small-scale station nestled in a parkland setting; and Coburg, a bustling commuter hub providing a central civic heart. Connecting the stations is a transformed ground plane with a network of connective pathways, parks, playgrounds, and public amenity.
Historically, Coburg and Brunswick are working-class suburbs, characterised by former worker's cottages and industry concentrated along the rail line. As a result, there developed a disconnected network of pocket parks, lacking the larger green spaces and leafy streets of other areas of Melbourne. Prolific street art and guerrilla gardening along the rail line were emphatic expressions of the locals' yearning for a greater connection to nature and public space.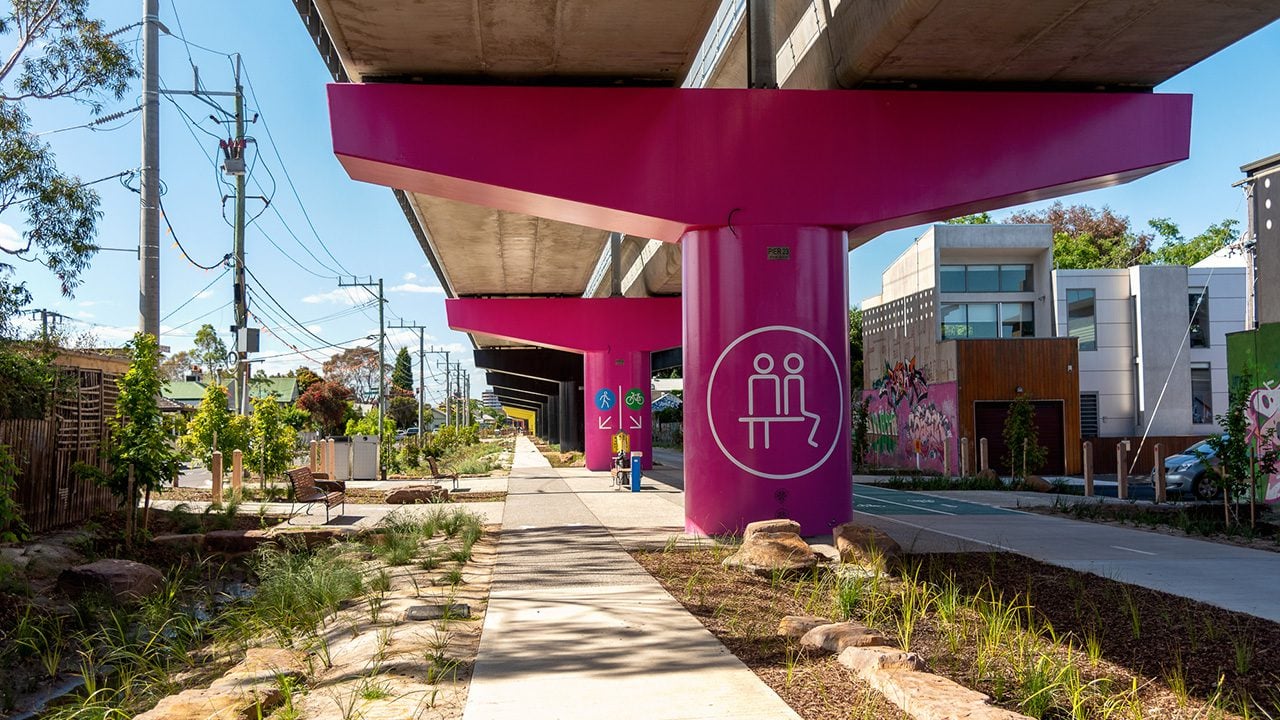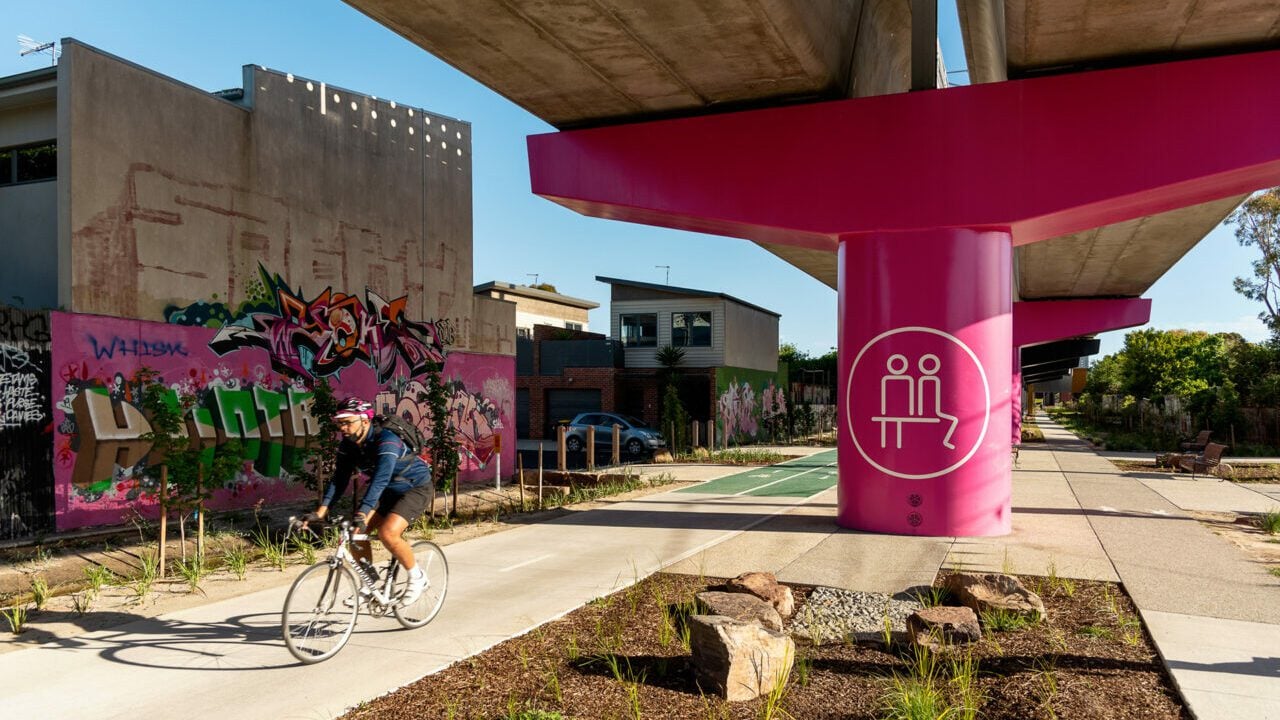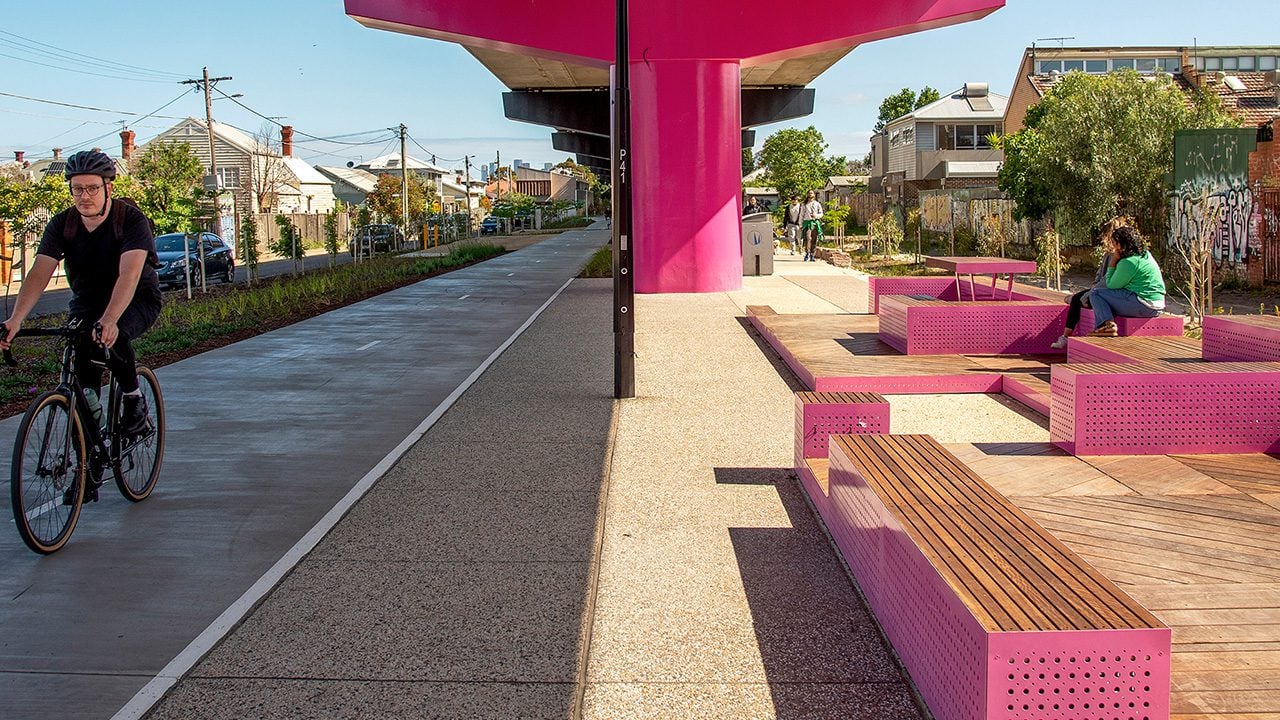 The Bell to Moreland project presented an exciting opportunity to transform the aging rail line and to 'green up' Melbourne's north.
Advocacy for a single row of central piers, minimised the structure's footprint and enabled the space for a dedicated cycle path as well as a separated pedestrian path. Signage and wayfinding were integrated with the piers, to reduce clutter and to curate a colourful celebration of place.
Increased space allows for a series of new recreation areas – two new playgrounds, fitness stations, a dog park and active recreation facilities including basketball courts and urban play spaces that make the train line a destination in itself. This new network of activity nodes offers a welcome respite for the growing population, servicing the community at a time when open space for local walks, picnics and hangouts is of utmost importance.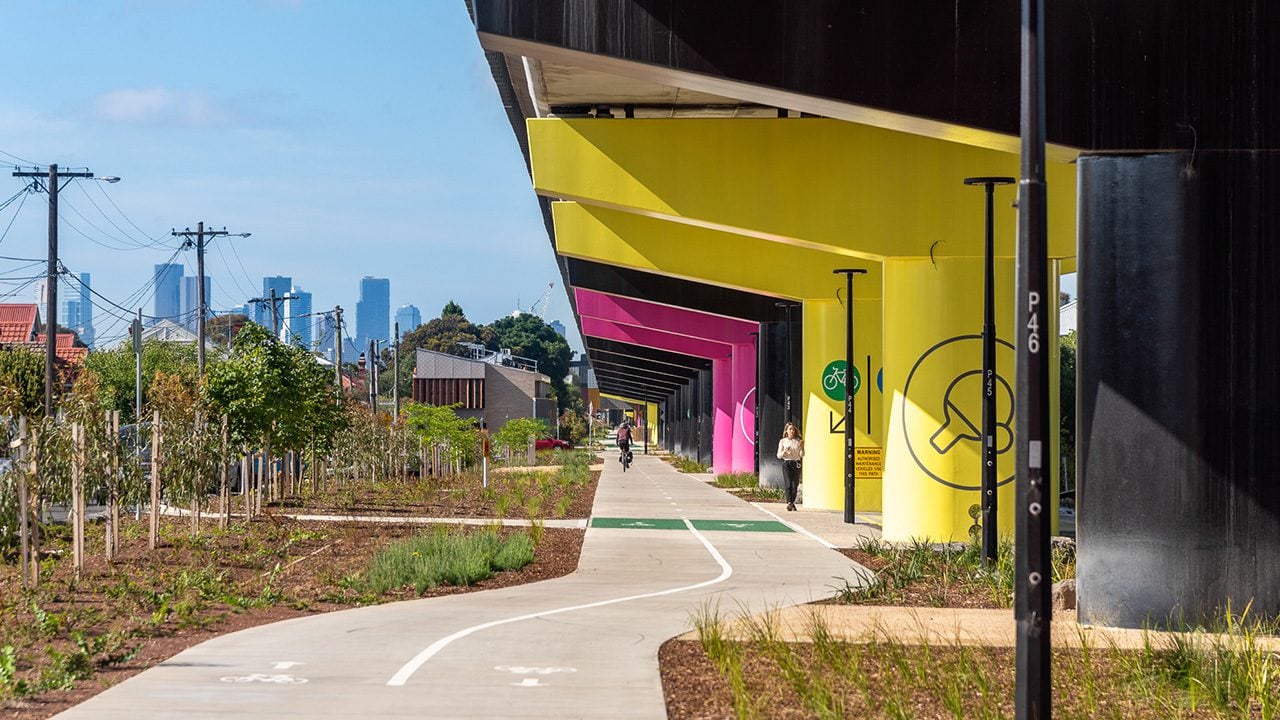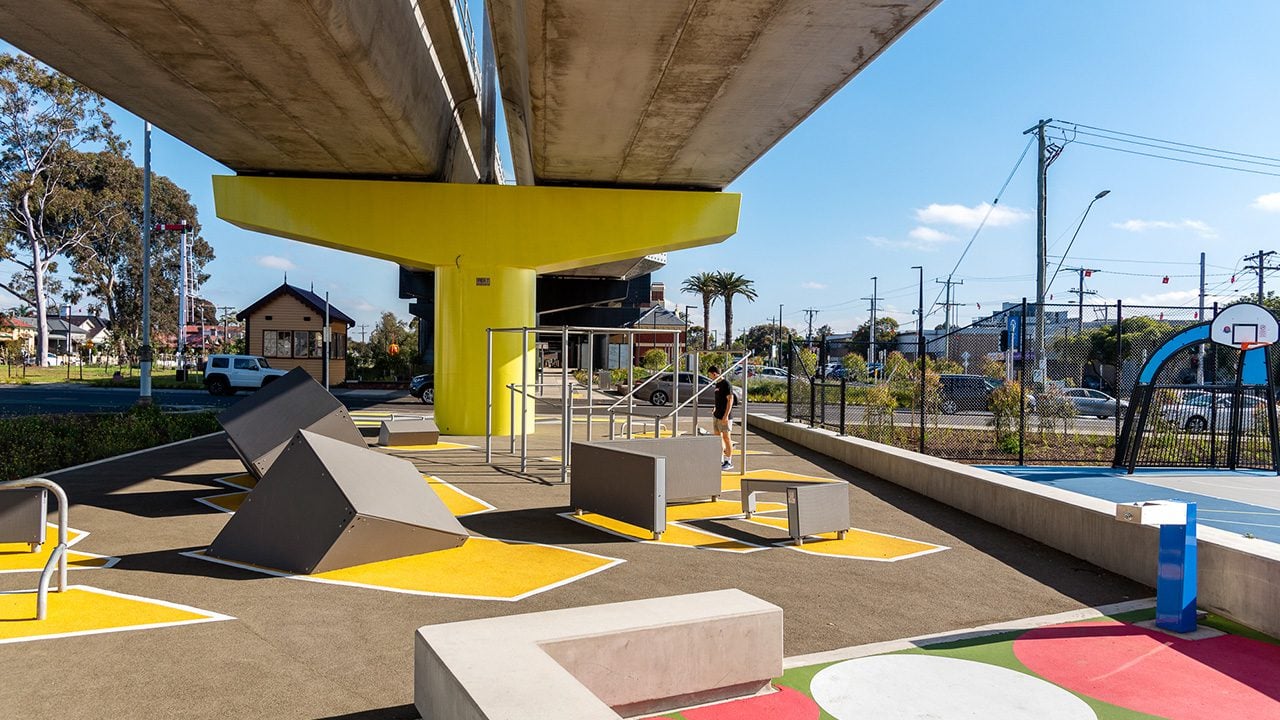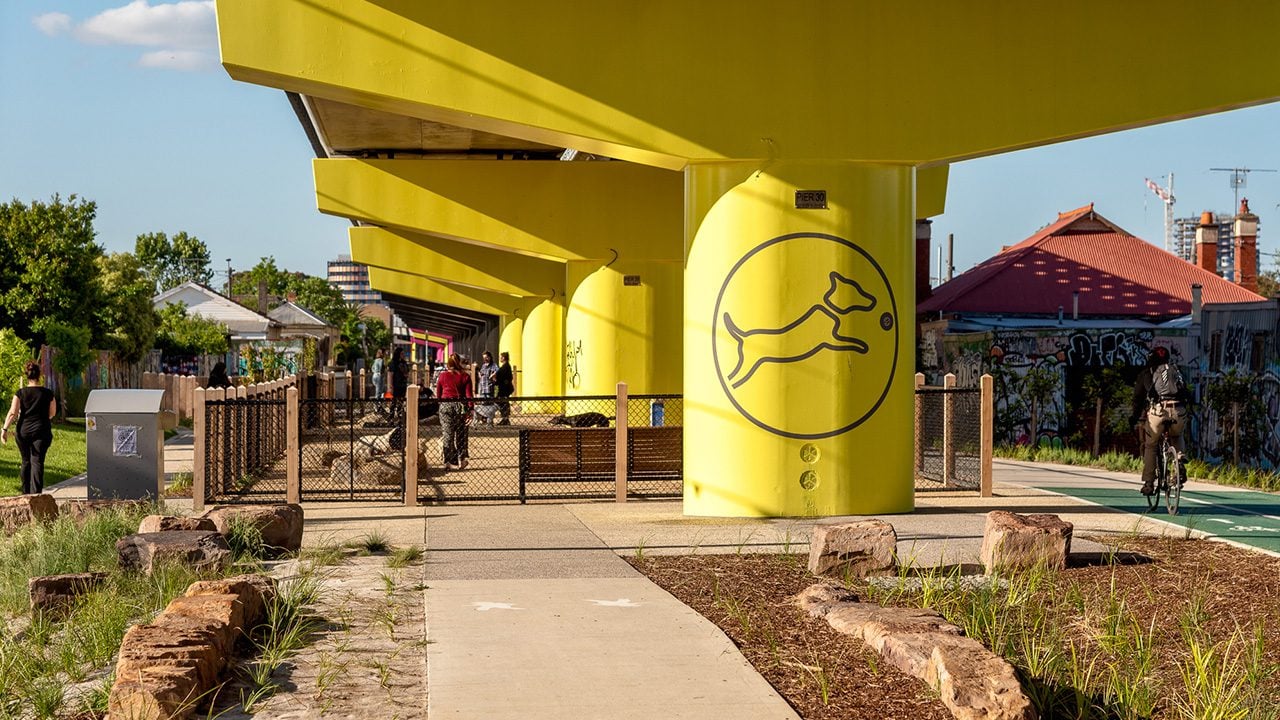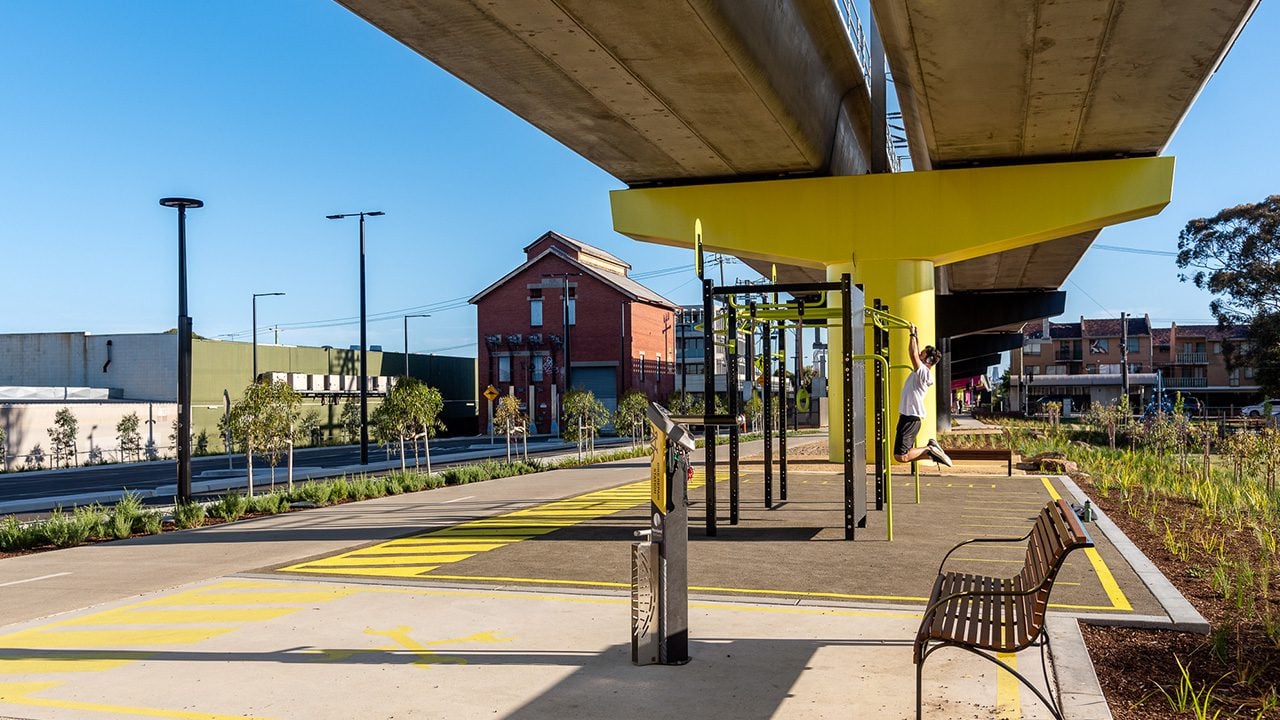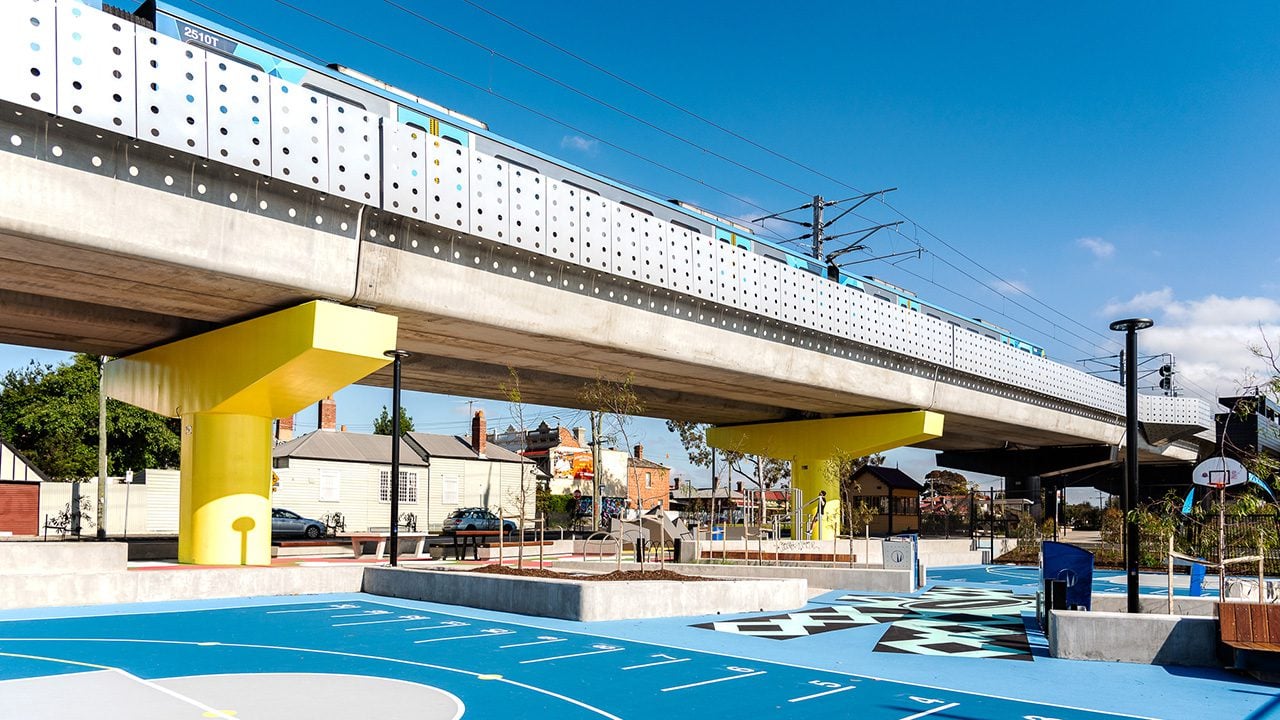 A key aspect of the Bell to Moreland Level Crossing Removal Project is the retention and interpretation of heritage, both post-colonial and First Nations. The upfield Railway line, original station buildings, and numerous ancillary rail items are of state significance in the Victorian Heritage Register.
Partnership with Heritage Victoria guided the refurbishment of the heritage stations for future reuse as a community or café space. The buildings have been integrated with the surrounding landscape, through Victorian-era planting. The original station platforms have been retained, utilised as seating at Coburg station, and as sunken garden bed containing original rail tracks at Moreland.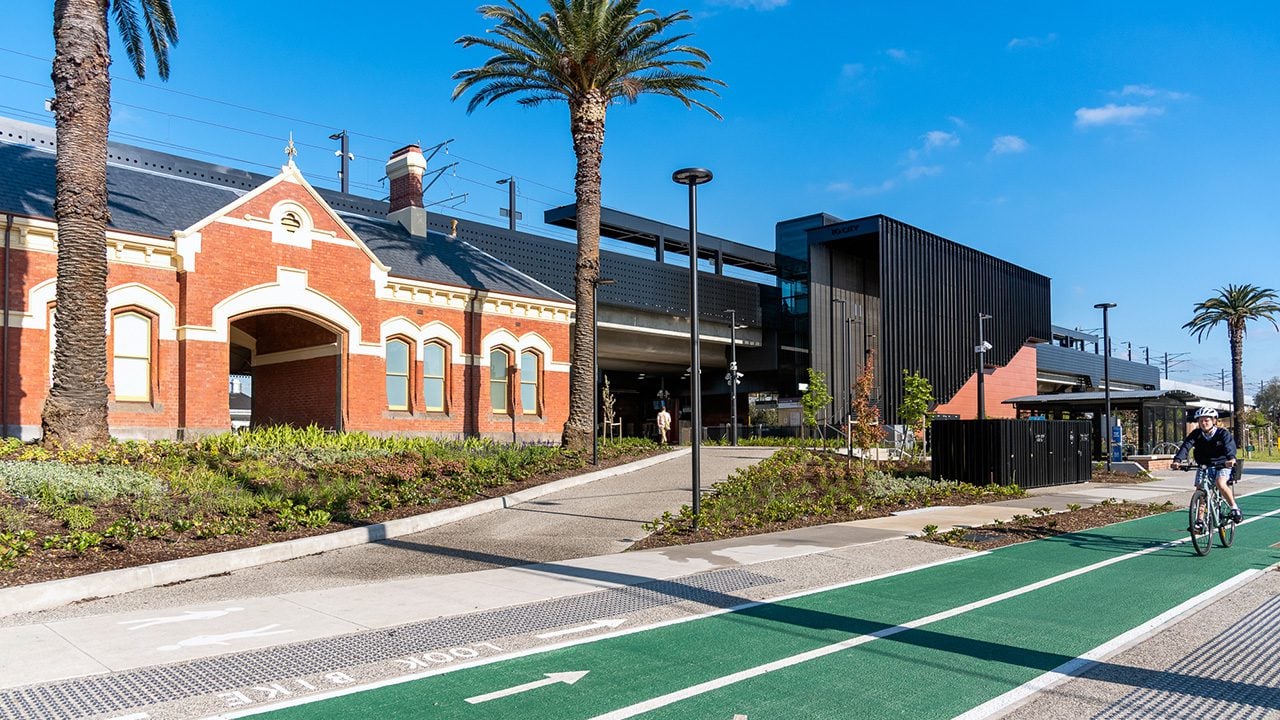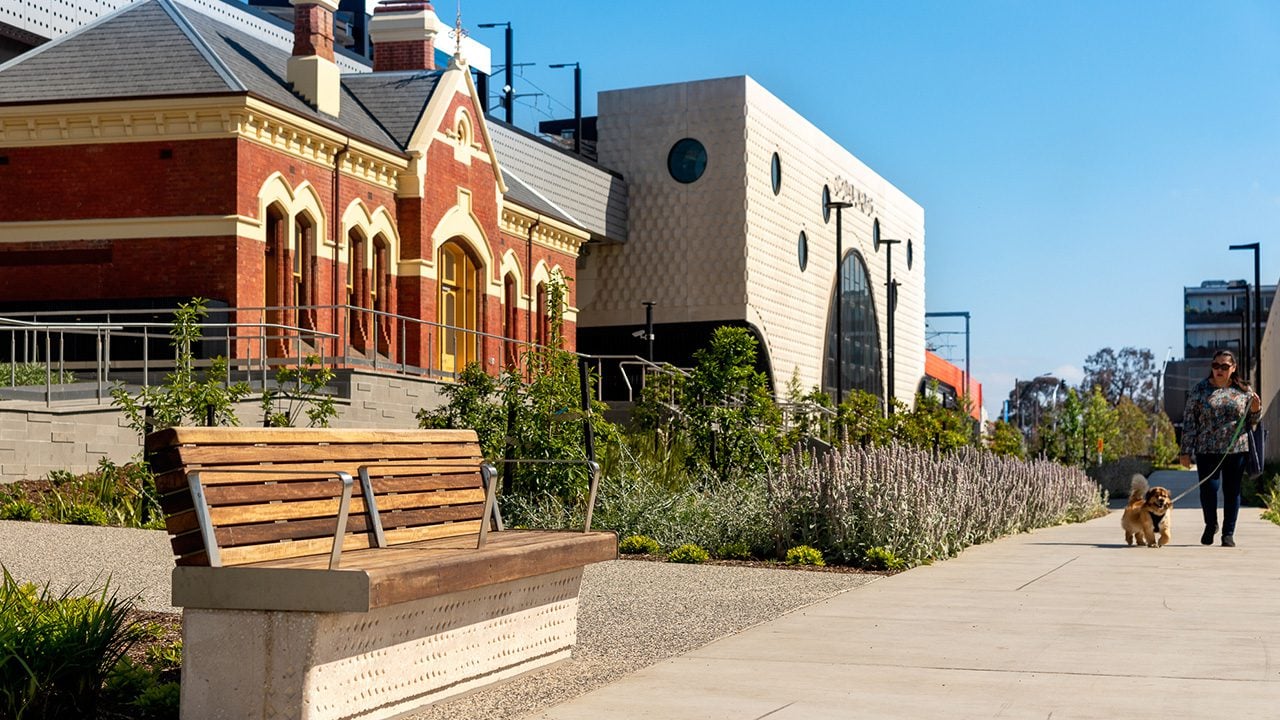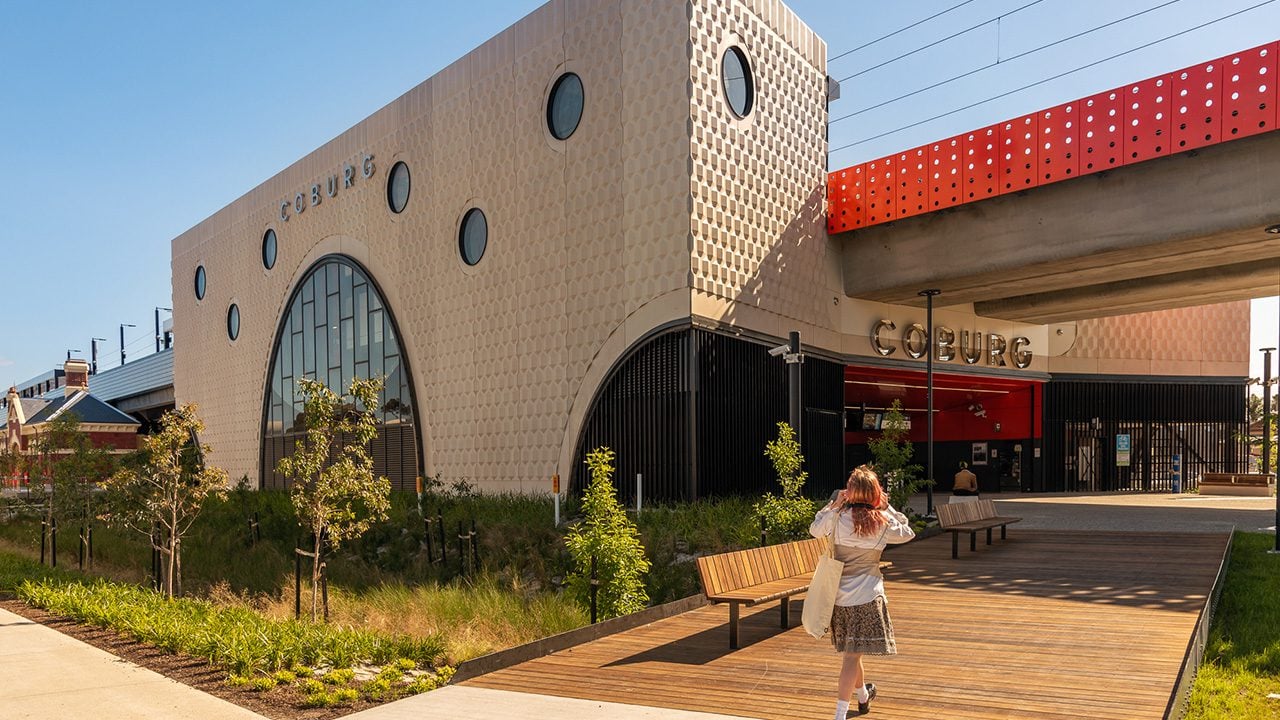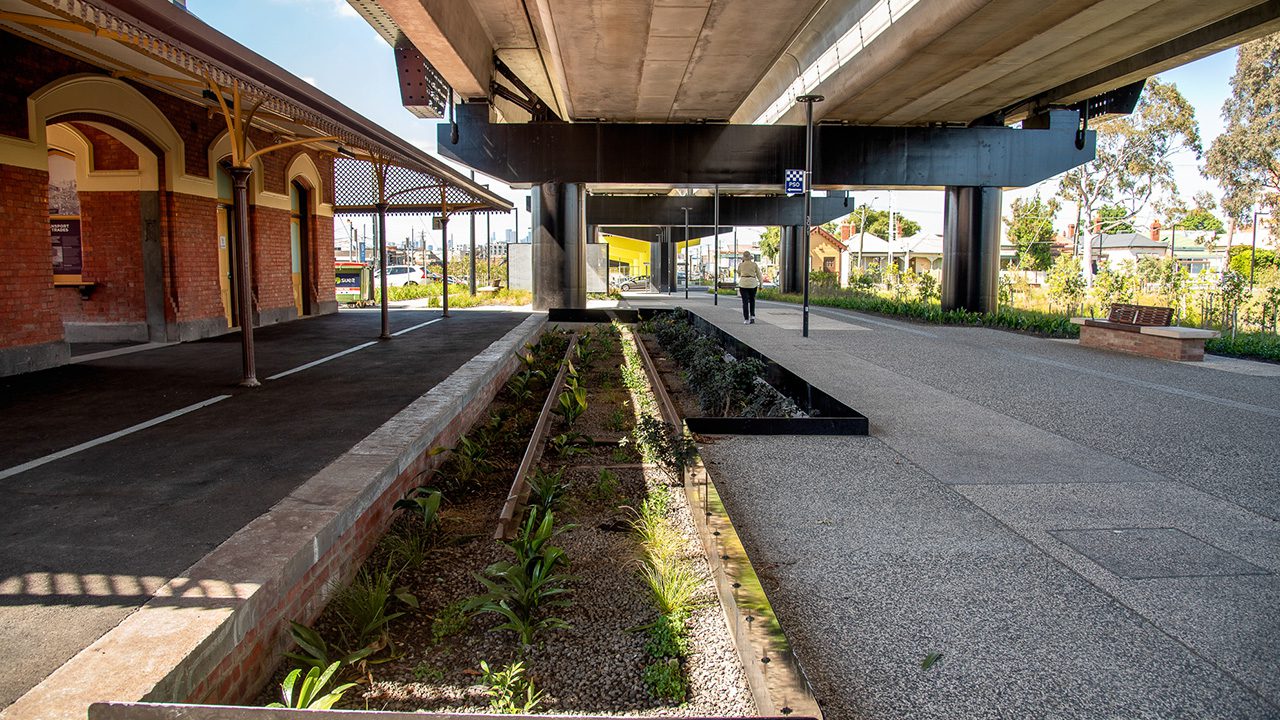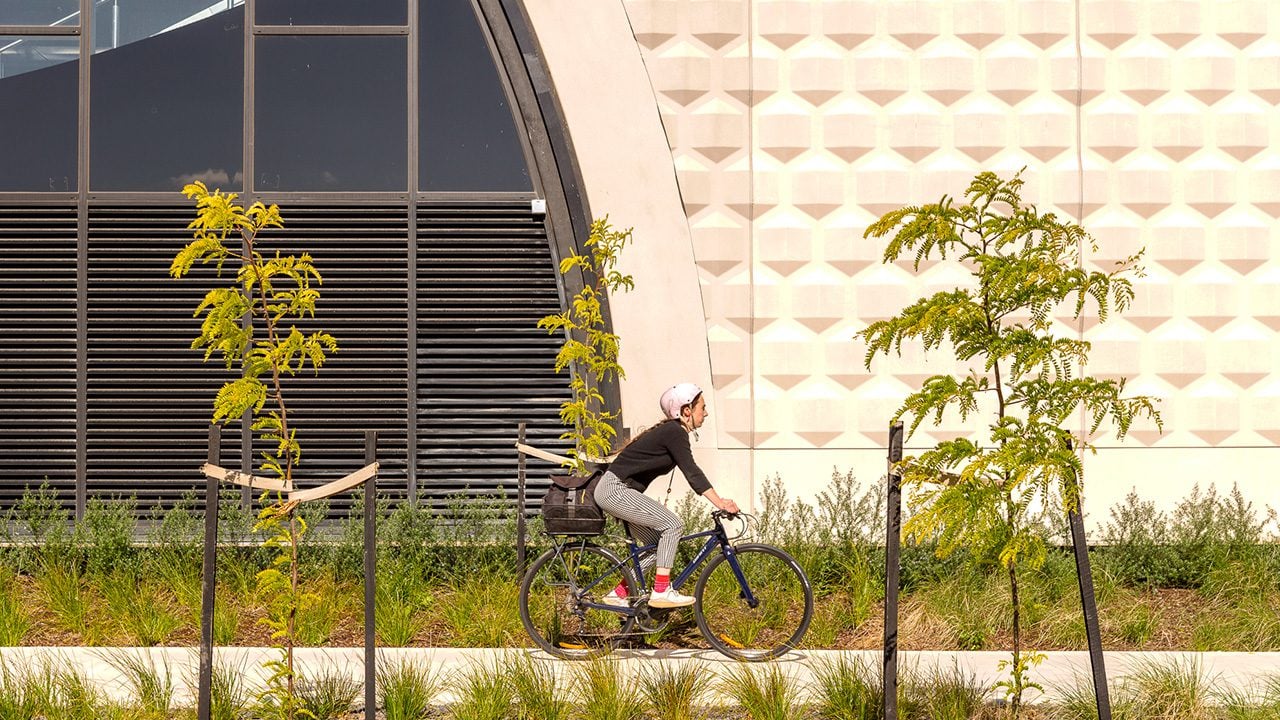 A co-design process with Wurundjeri Traditional Owners guided the project's relationship to Country. A key aspect of this is the response to an existing cast of a scar tree, a significant cultural marker that had become obscured and undervalued in its existing busy roadside location.
Repositioning this into the parkland amongst existing trees, with additional River Red Gums and grassland planting helps to return the scar tree to the landscape. An informal rock circle surrounding the marker provides an intimate space for knowledge sharing and cultural exchange.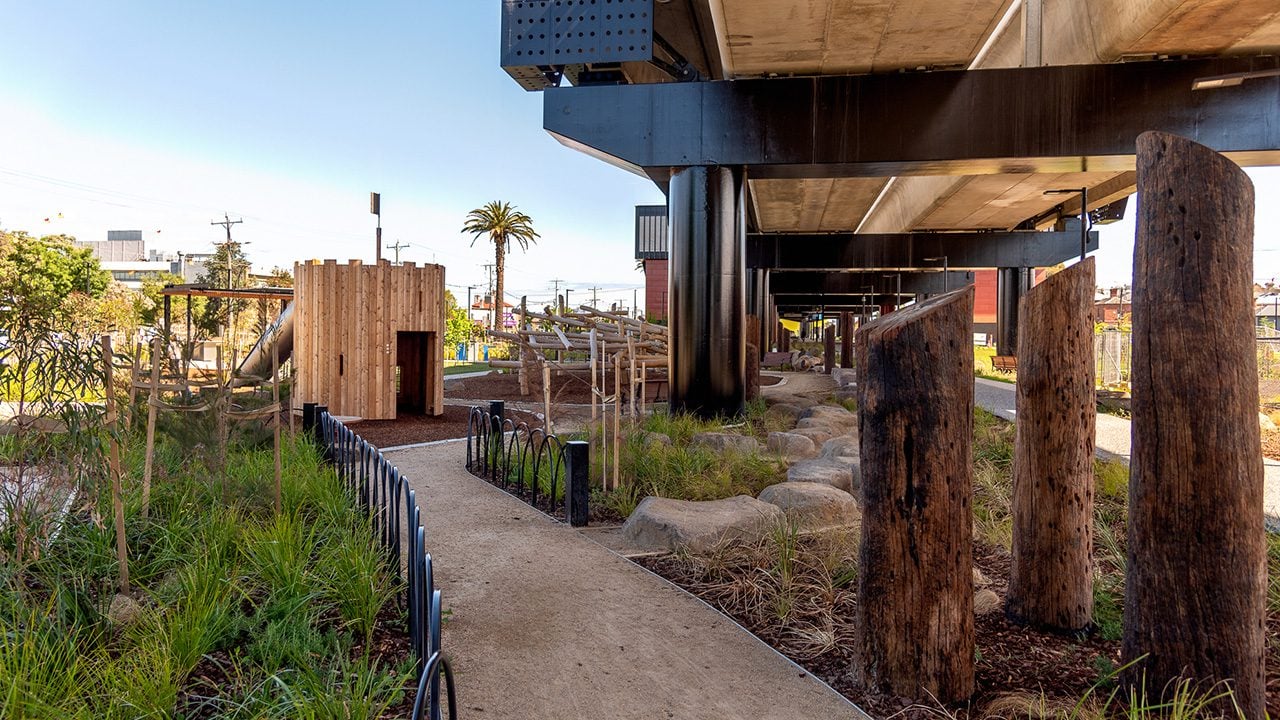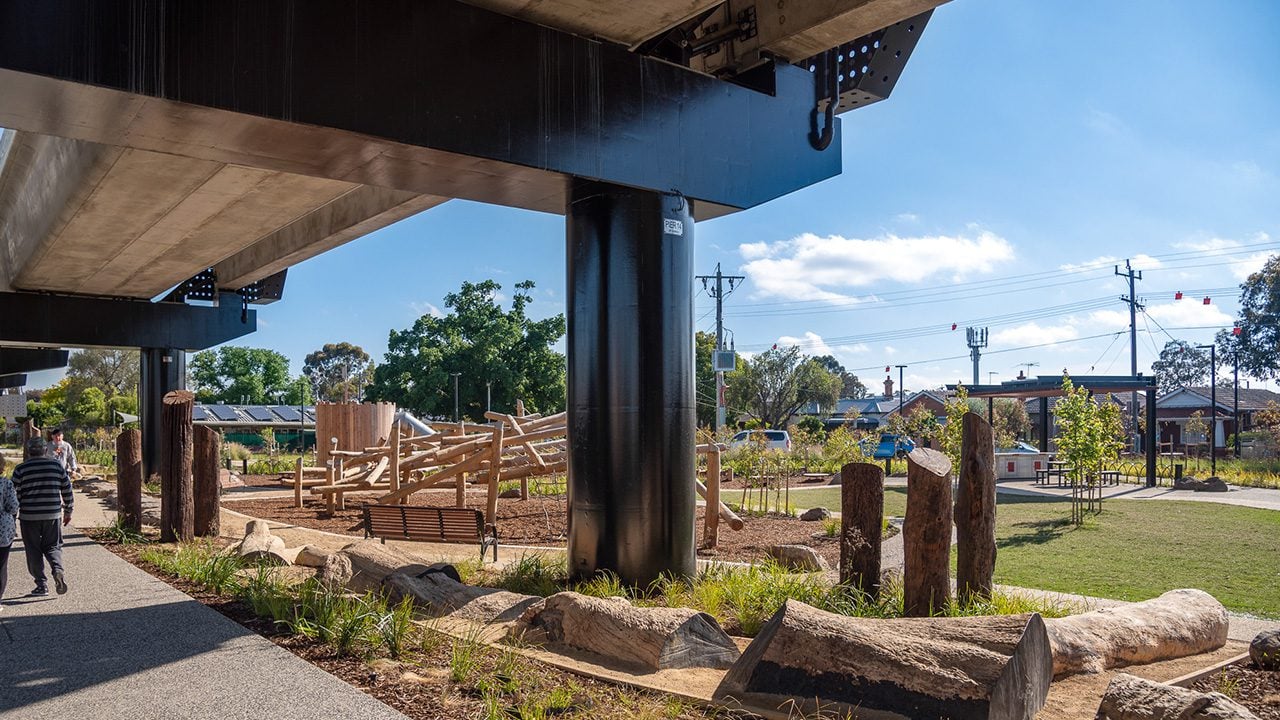 Journeying along the Upfield path today is a different experience to what it once was. The previously congested and run-down rail now opens wide to welcome all.