Community + Culture
Parks + Gardens
Client
Brisbane City Council
Queensland Government Anzac Centenary Public Fund
Collaborators
TKD Architects
Disciplines
Landscape Architecture
Location
Brisbane City, QLD
Imagery
Christopher Frederick Jones
Anzac Square is Queensland's preeminent memorial to those who have served their country in war, conflict, peacekeeping. It is now a place that tells a story, holds memories and commemorates the sacrifice of Queensland men and women; whilst equally balancing its role as a strategic urban thoroughfare and civic open space.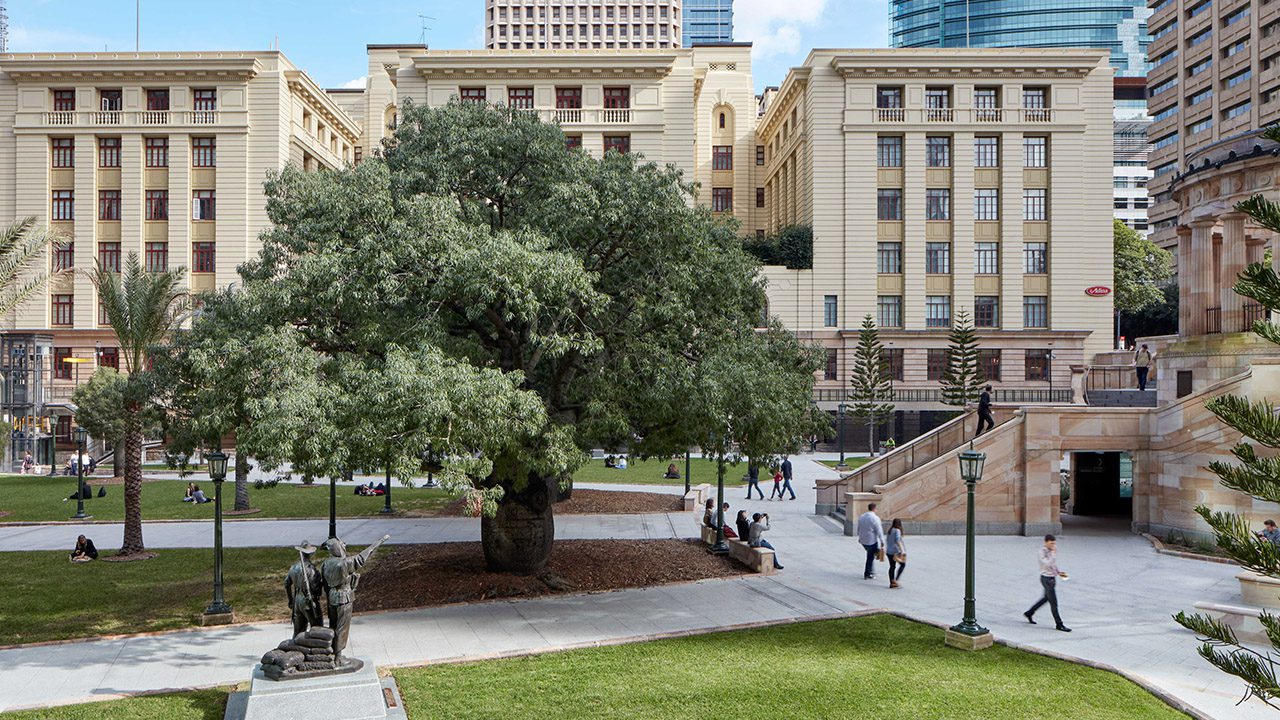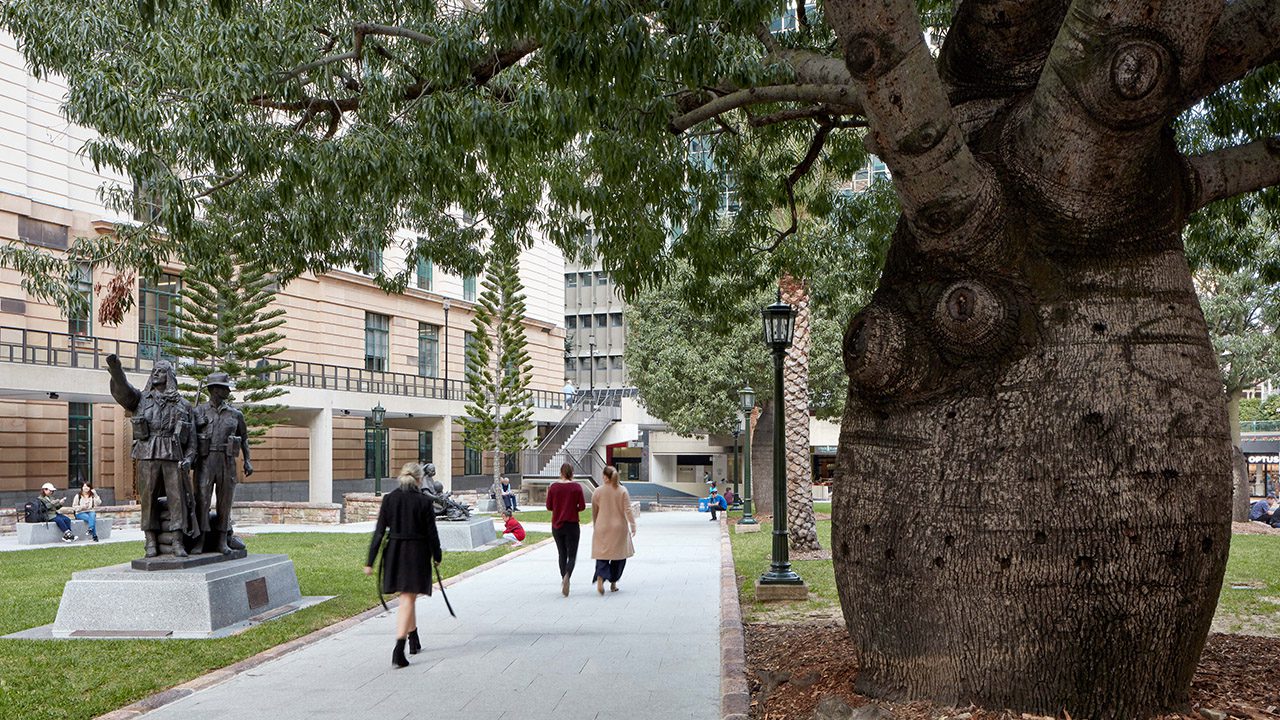 The guiding design principles were to conserve, declutter and enhance the park, re-establishing its role as a commemorative space, a space for quiet reflection, a green retreat, a gathering space and a connecting space.
Throughout the consultation process, stakeholders demonstrated a high level of emotion and connection to Anzac Square, reinforcing the need for robust, strategic planning regarding any enhancements or changes to the place. There was a strong consensus for the solemnity of the memorial to be respected and the sense of space and tranquillity to be retained.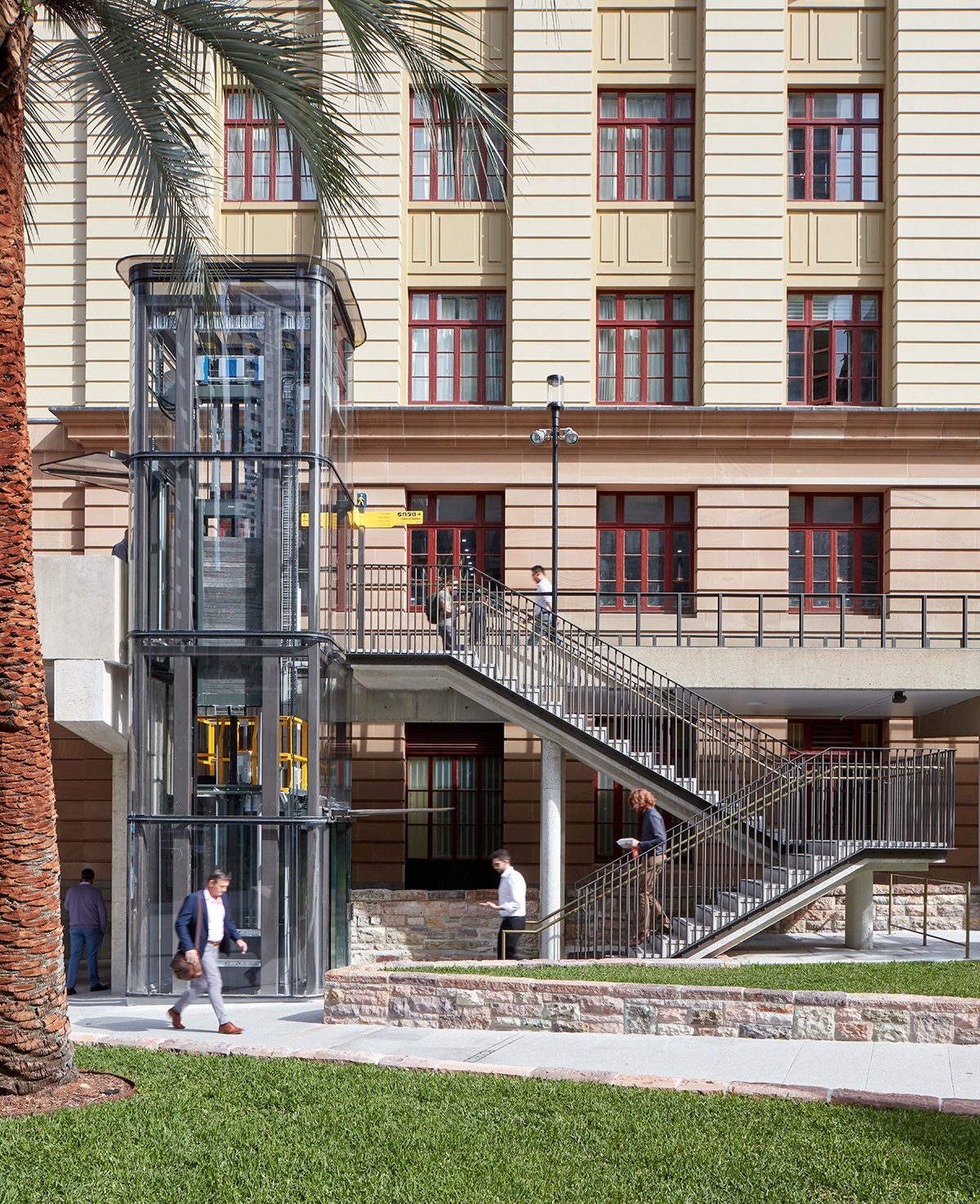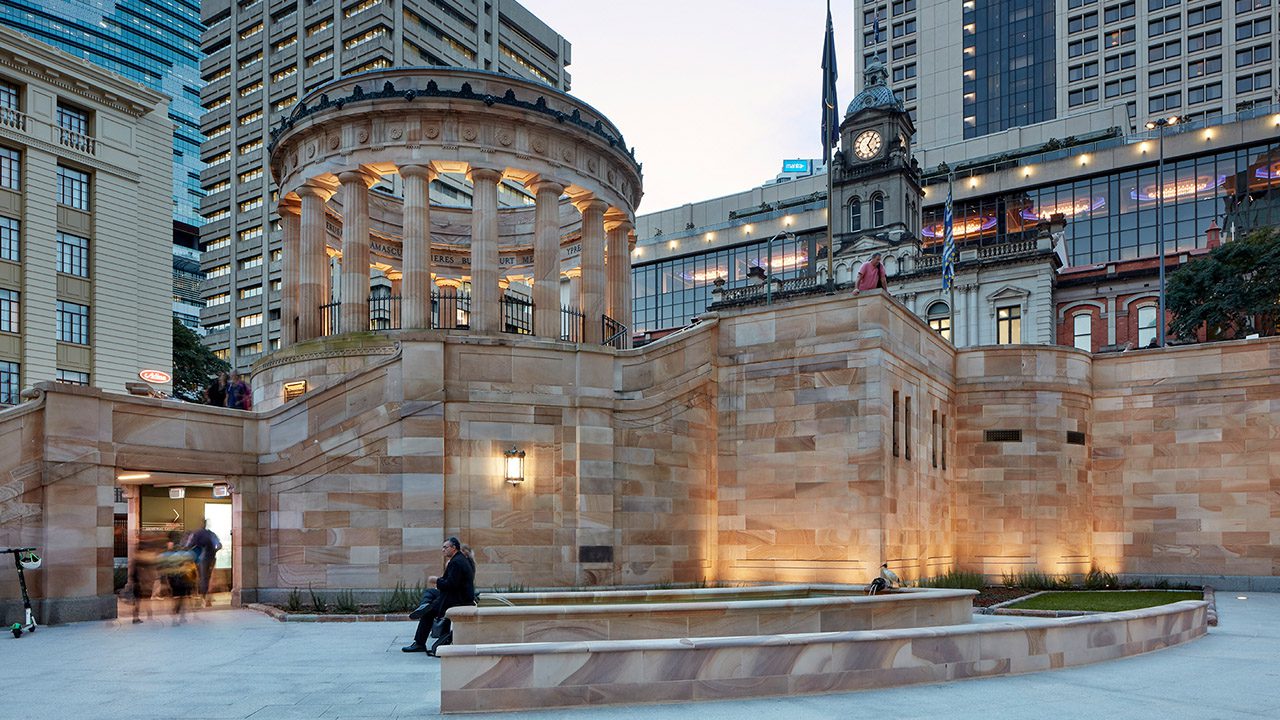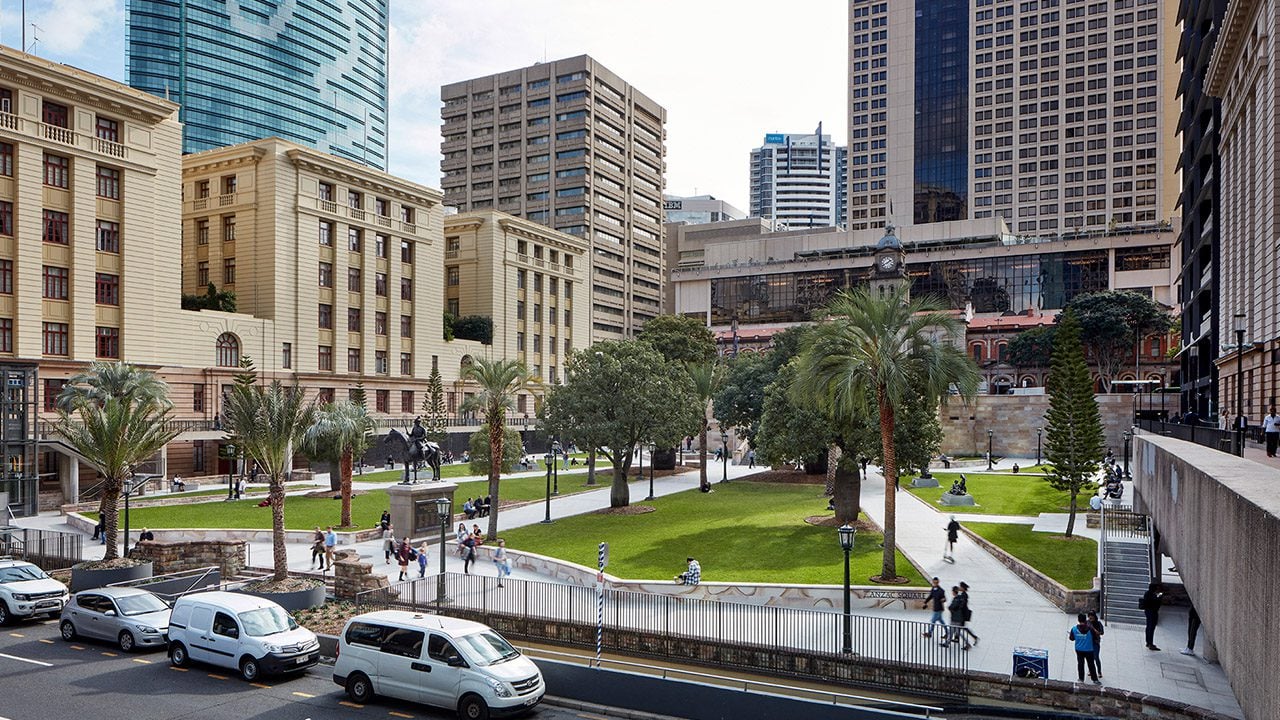 The enhancement works re-established the Shrine as the focus of the Square with the original layout of the park – its paths, trees and lawn – restored, renewed and reinterpreted. Careful planning ensured all items of heritage significance were retained.  To remediate the intrusive incursions of the 1980s car park entries, the three entries into Anzac Square were formalised, and universal access provided into the Square, Adelaide Street footpath has been regraded, reshaped and redefined with a low curved sandstone wall.
Soft landscaping has been extended on the axis into Adelaide Street with two new palms to mark the central path. These works have improved the accessibility, legibility and dignity of Anzac Square in the wider city context.
The works to the 1980s elevated walkways – removal of the projecting balconies, replacement of the balustrades and stairs and the introduction of a new lift – have re-established the setting of the Square and the defining prominence of the government office buildings.
The introduction of the bronze commemorative screens flanking the Square – with the names of every Queensland town represented in WWI and WWII – and the formal new entry to the Memorial Entry reinforces the memorial function of the park. Removal of the Caesalpinia ferrea prevented further damage to the Square and ensured the Qld Women's Warm Memorial was no longer hidden from view.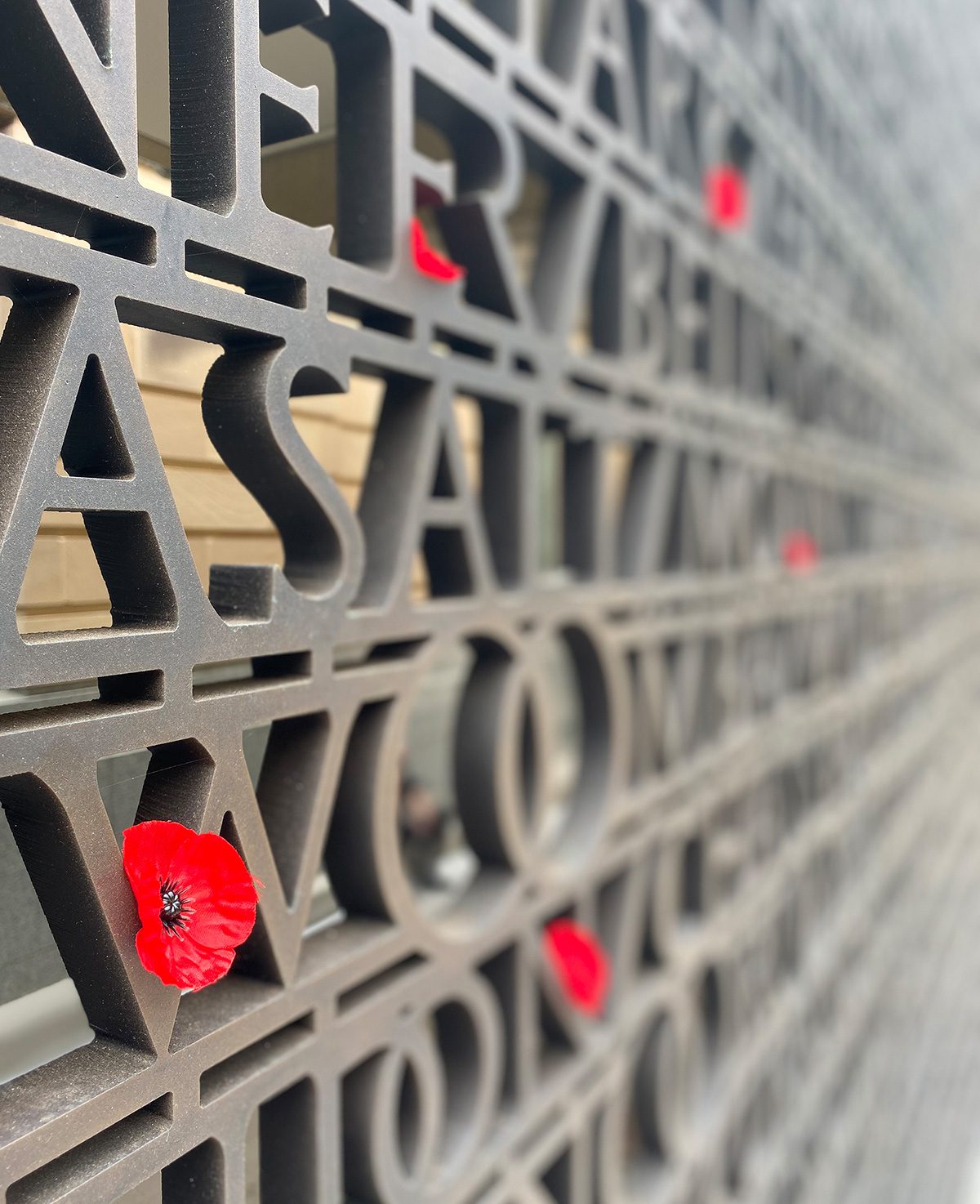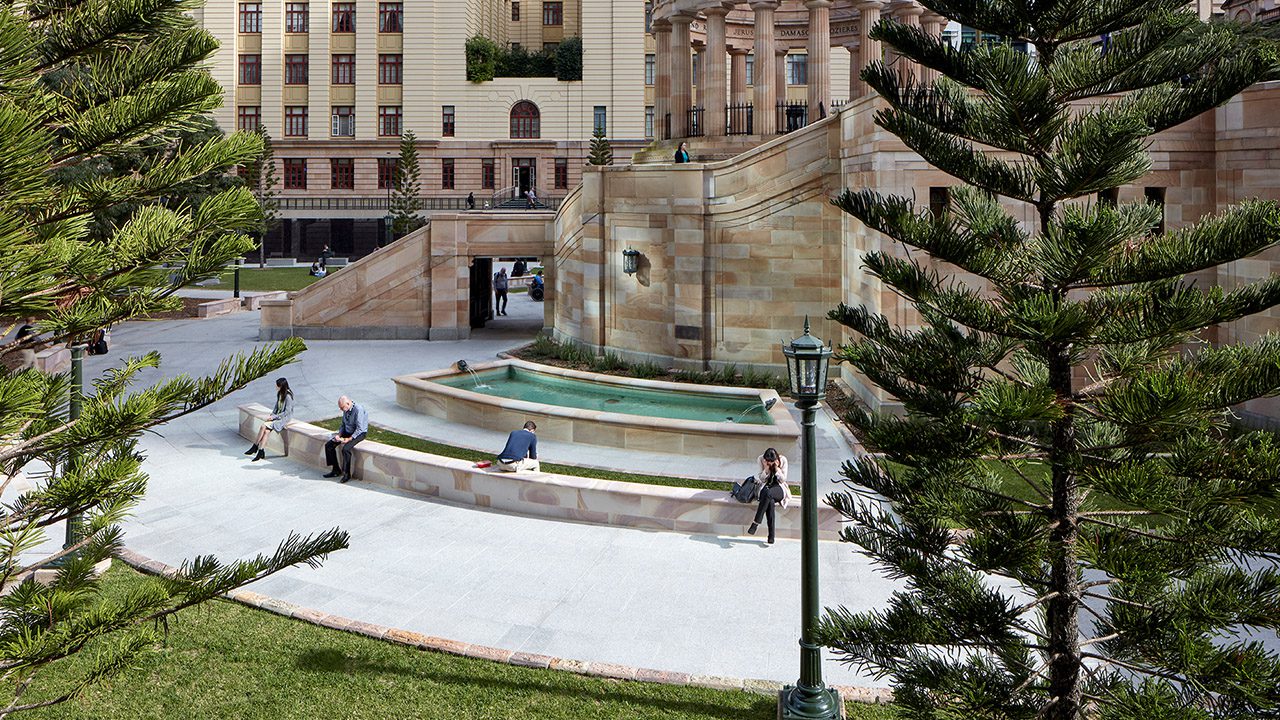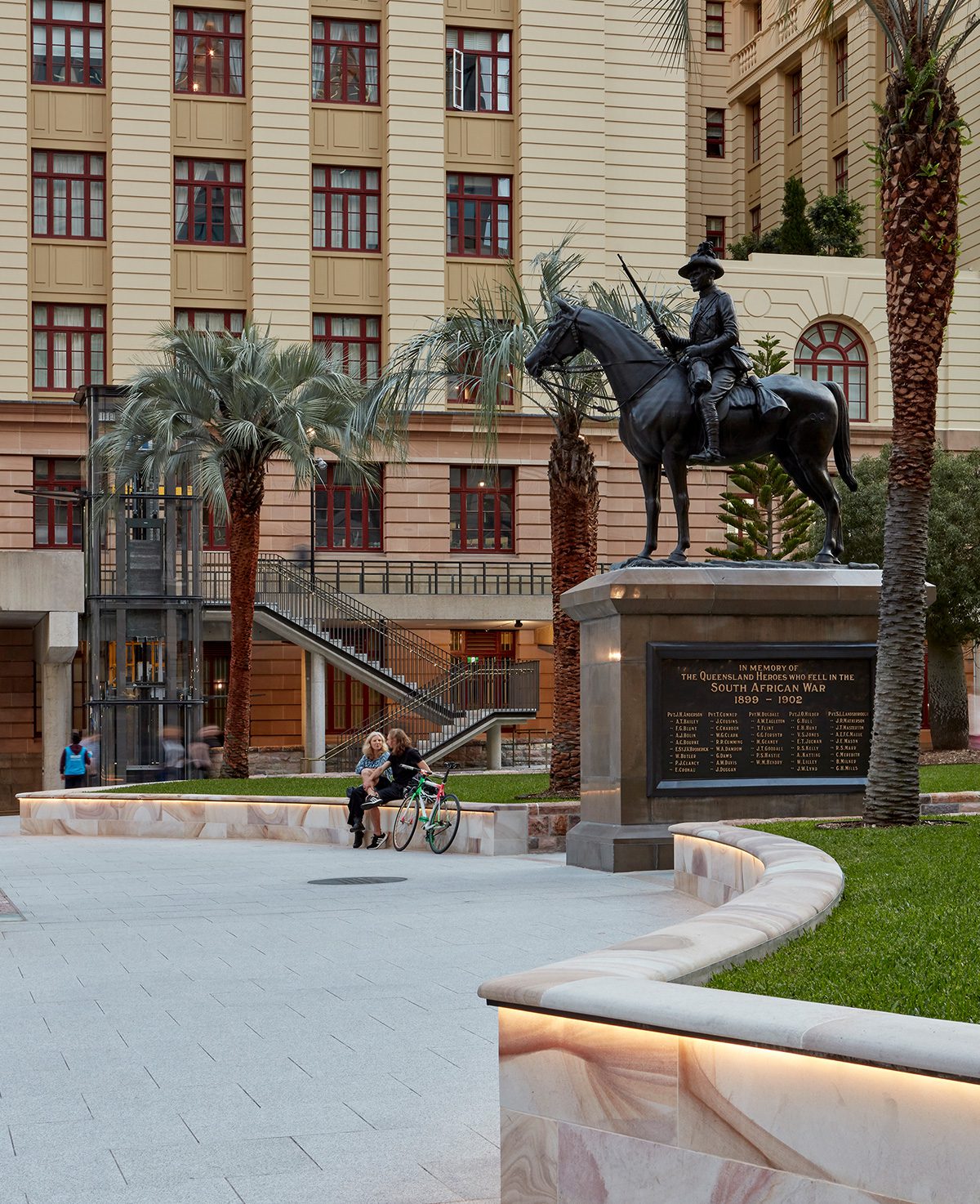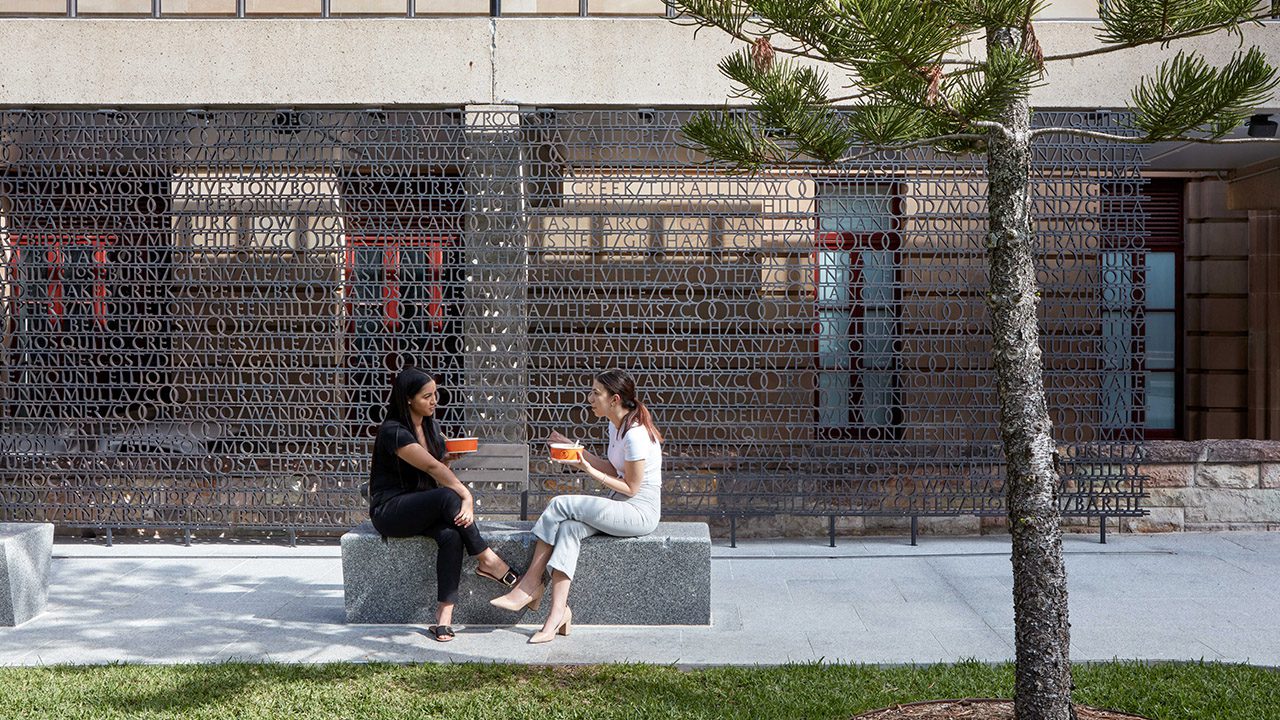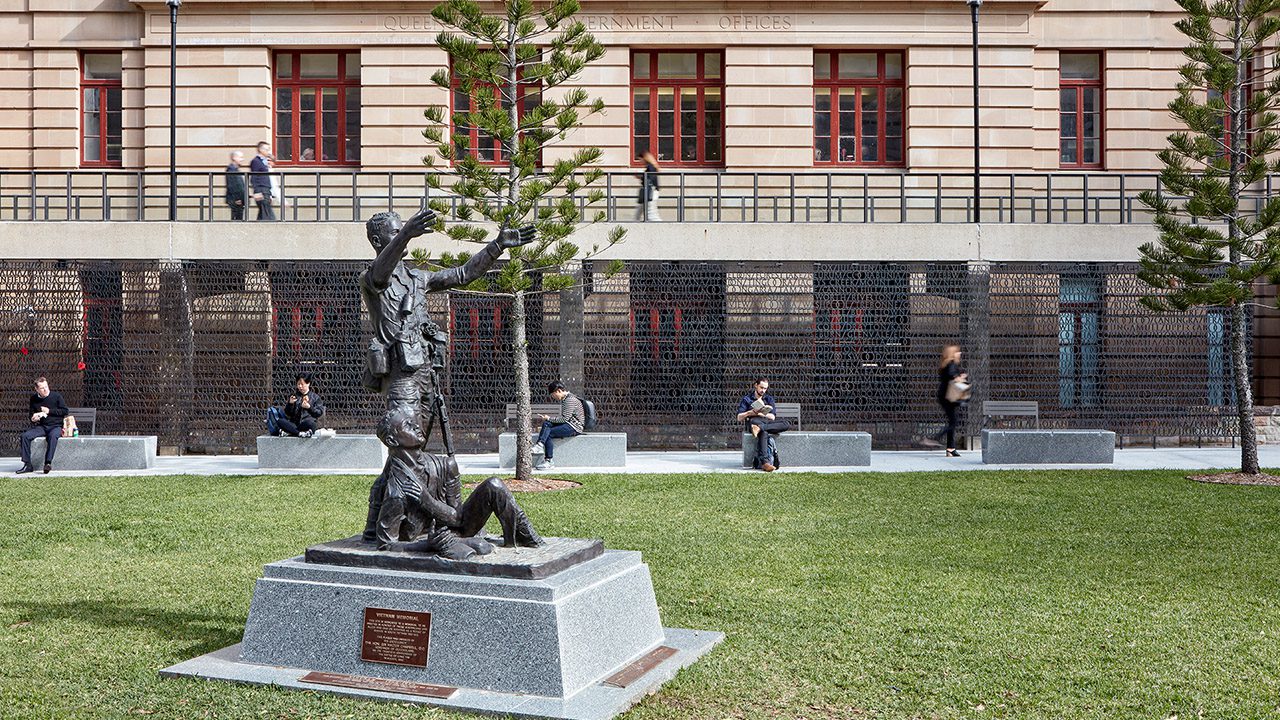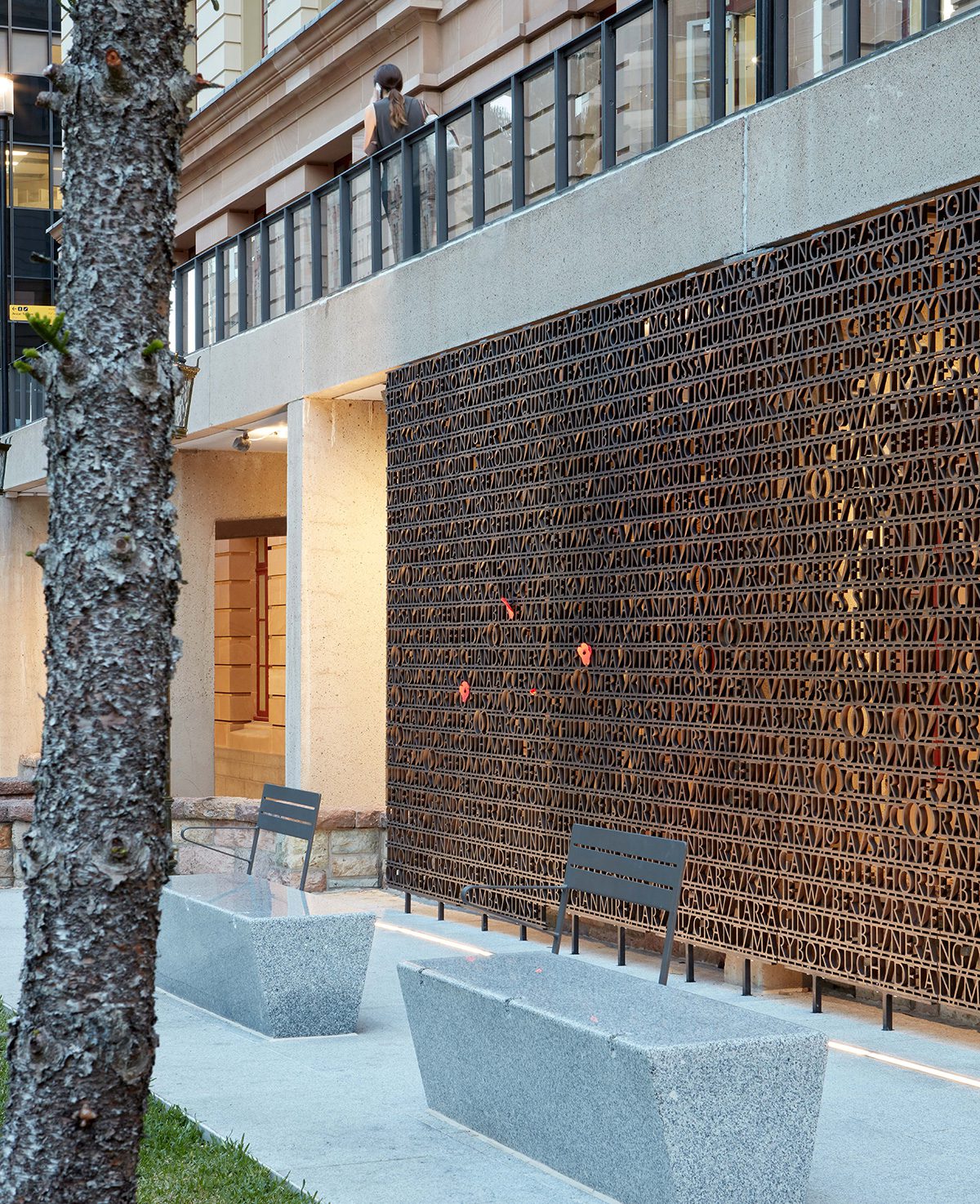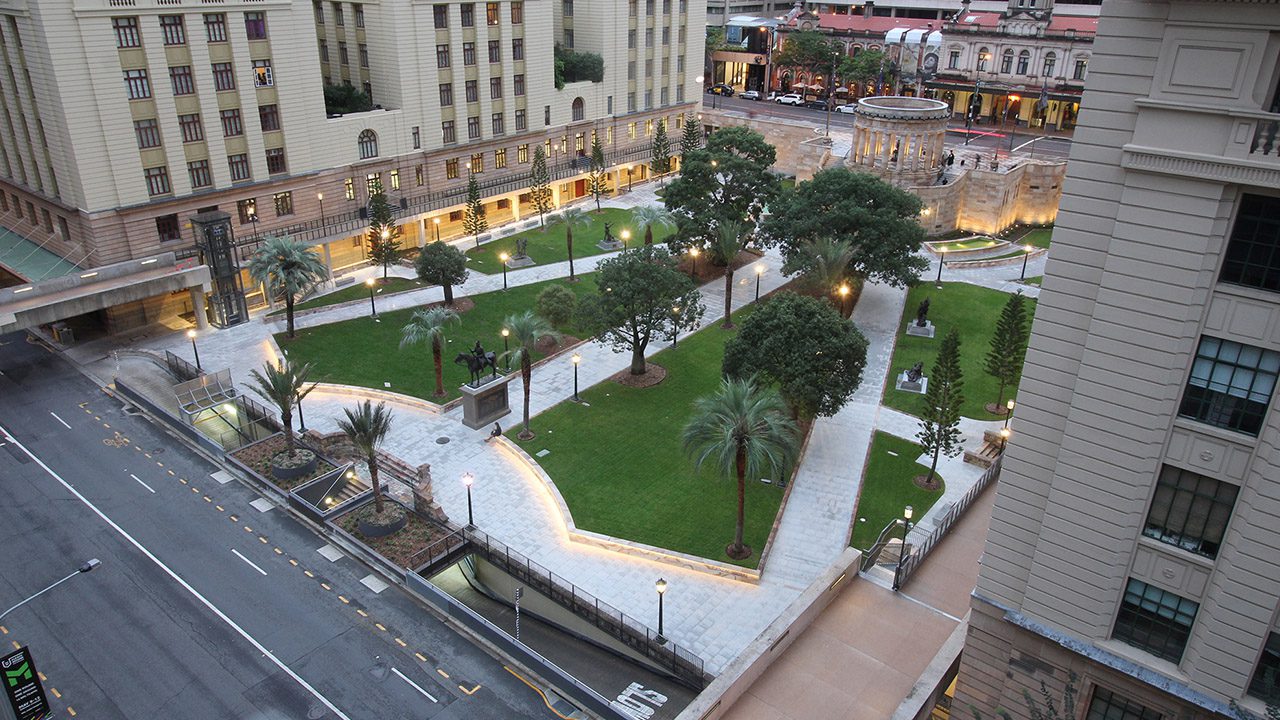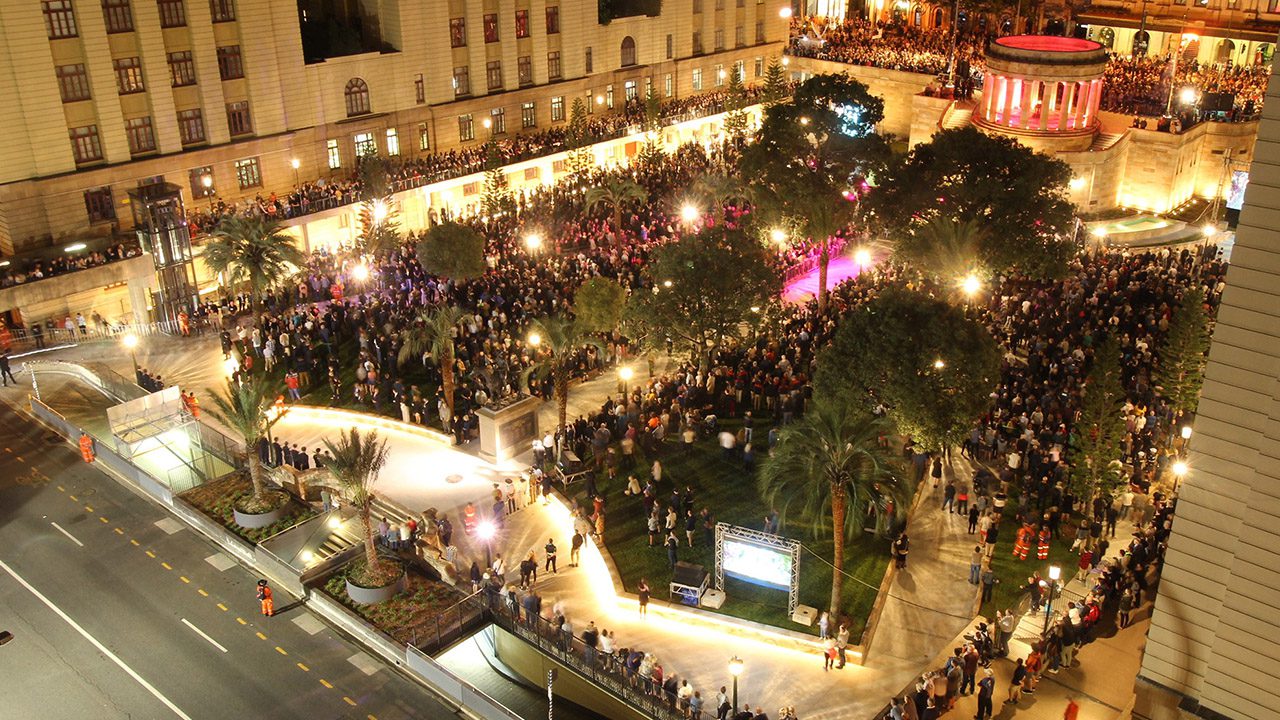 The state's Anzac Centenary commemorations were a timely opportunity to restore and enhance the square and engage new generations of Queenslanders to ensure that the legacy of those who gave their lives for our freedom is not forgotten.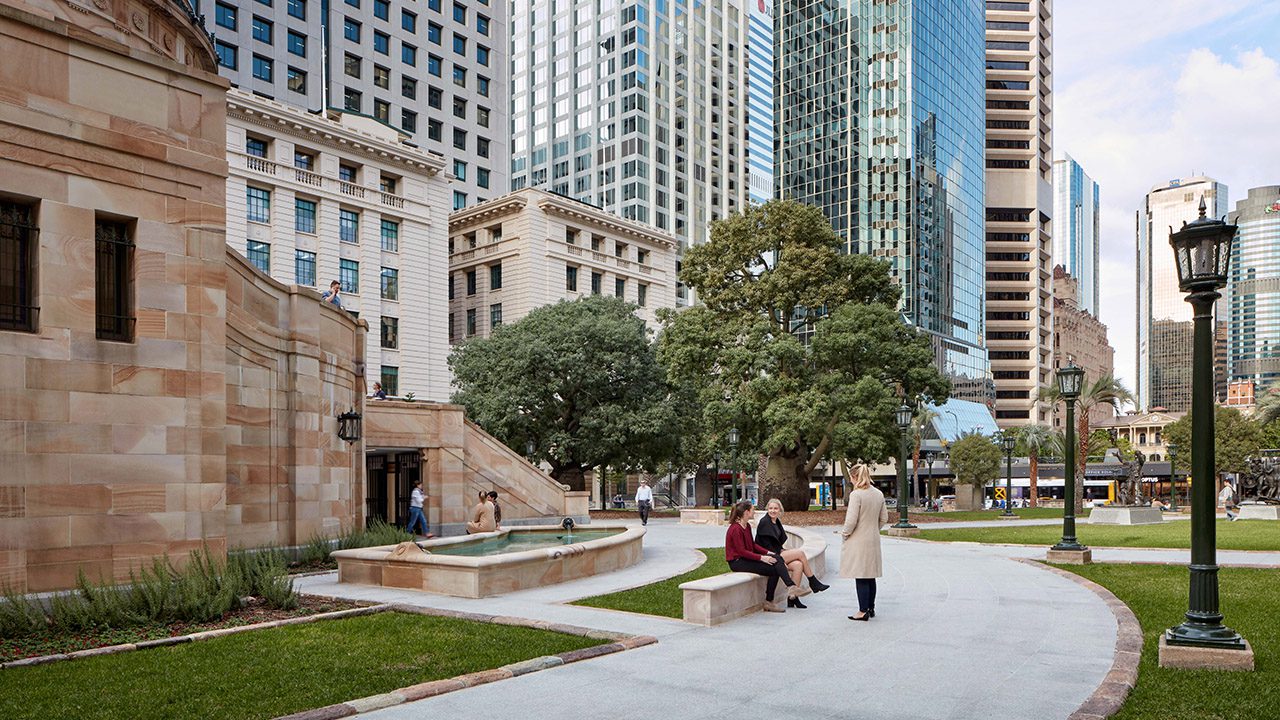 Its role as a green retreat and a healthy outdoor destination within the City has been enhanced with wide expanses of lawn and carefully positioned Araucaria columnaris flanking the Square and providing shade over the new seating. The Square's edges have been activated through the placement of seating and the bronze commemorative screens.
The well-received enhancement works have ensured Anzac Square will provide memories for those visiting over the next 100 years as well as honouring the service and sacrifice of Queensland and Australian men and women in war, conflict, peacekeeping and peacemaking.